Letters to My Brother
2.1.2012
By James Clementi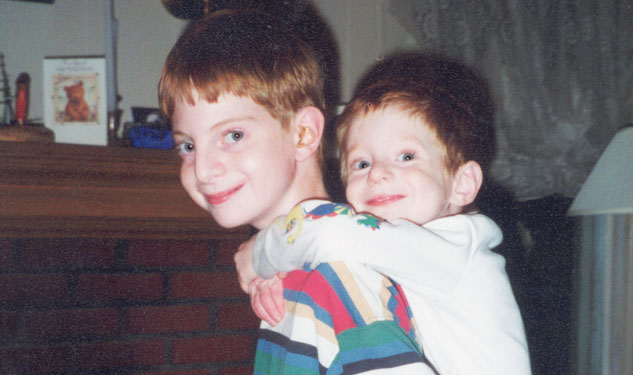 James (left) and Tyler Clementi / Photo courtesy James Clementi
You had a lot of growing up to do and a lot of baggage to work through before you could really feel comfortable with who you were. You'd roll your eyes at me and dismiss it with one of your "whatevers," but it's true. Libidos aside, when you told me you were only looking for hook-ups, I totally didn't believe you. Sure, sex is amazing, but love is the best part. It was there within your grasp.
Dear Tyler,
I guess I never really told you how much I admire you, how much I wish I was more like you. We came from the same gene pool, the same family, the same town, the same schools, the same church, everything the same. But I always saw a confidence and strength in you that I didn't
recognize in myself. Where did you get that? When I thought about where I was going to be in five or 10 years, I could never picture it -- my mind would be blank. But when I imagined your future, I saw the world at your feet. You were supposed to show me up, do it better than I could. I wanted that for you. I saw amazing professional accomplishments for you, but also personal ones. I know now that you felt so alone, but Jesus Christ -- you are so, so easy to love, with your kind eyes and gentle heart. I know so many people you had yet to meet that would one day love you almost as much as I do. Even after what you did, I cannot see you as a sad or depressed or lonely kid. To me, you will always be my sweet, tender little brother.
I've heard the story so many times: how you did it, the night you jumped. The first time, and every time I've been told about it, read it in a paper, heard it on TV, or dreamt about it at night, it still confuses me. I know you and I know that is not who you are. And that is never how I will think of you, alone and cold and at the end.
You are youth, potential just beginning to unfold. You are blood, my connection to the past, and my hope for the future. You are beauty, fleeting and marvelous. I know there was pain, and I'm sorry for that, but you were joy, too. Your voice, your smile, tiny hands clinging to mine. I will never let go.