Letters to My Brother
2.1.2012
By James Clementi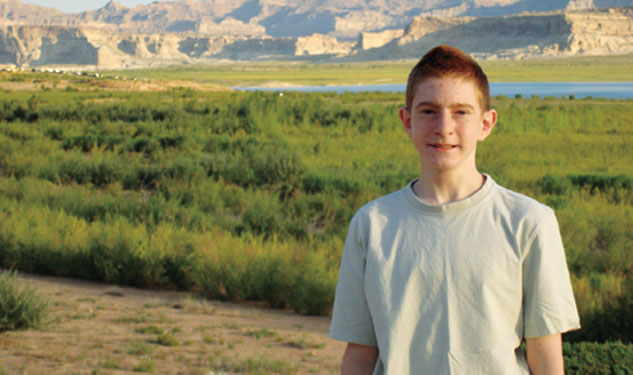 Tyler Clementi / Photo courtesy James Clementi
It was great because we had always known, but now we could talk about it. I saw so much relief and genuine happiness in his face. It felt like the beginning. We talked for hours about sex, relationships, bars, fake IDs, homophobia, everything that had been off-limits before. I was really taken aback by how assured and poised he was, how much better he understood himself and his desires than I did at 18. It was startling, but it also fit with my sense of him as a young man, still figuring it out but grounded in his own worth and value.
Two months later, he left to start his first semester at Rutgers. I think he left excited to grow up, to live life. I was looking forward to the days ahead and the years of brotherhood still to come.
Pipsqueak,
You were one noisy kid. I remember walking inside and the most beautiful sounds of Tchaikovsky and Mozart would waft through every room. And I hated it.
Remember how I used to bang on your door and scream at you to stop being so loud? It was so unfair that I had to listen to your noise all the time -- why couldn't you just pick up a quieter hobby!? I would refuse to attend your recitals and concerts because I had to listen to you play all the damn time at home. Wow, do I regret that.
It is so quiet now. You were really talented; it was a gift. I'm not sure I ever told you that... maybe you didn't care. It's not like you needed my validation; I know nothing about classical music and you knew you were the shit when it came to that damn violin. I just feel really bad for not telling you how awesome you are, how much I respect your skills and dedication. I regret not listening to every note with open ears, not going to more concerts. Fuck you for making me feel bad; it's not fair that you did that to me. But I would tell you now if I could, I really miss the noise!
Hey Ty,
So the other day I was at Barnes & Noble, trying to find a book to read since I have a lot of free time now that I can't sleep, can't hold a job, don't want to be around friends or family, and pretty much need to escape my life. Anyway, I was browsing at the newsstand and I saw you. I always do. This time you were staring back at me from the cover of People. I keep thinking that I'll look up and see you for real, the way you should be, but it's always more reminders of the way you are. I'm sure the other customers found my anxiety attack entertaining. How am I supposed to respond to seeing you on People, though? It's a lot to digest, you being a celebrity and all. I always knew you would make it big; I just thought you'd be around to enjoy it.
I wonder what you would think, seeing all the commotion you've caused. It is surreal and meaningless to see you as a mere story on The New York Times, a brief glimpse at a life with none of the detail. You were a typical college freshman, trying to adjust to a dorm room, make some friends, meet a cute guy, and enjoy your independence, and no one noticed. The headlines tell of how you were violated and ridiculed; your last moments are a cautionary tale, a scandal, something to sell and entertain.