How To Look Like A 2(x)IST Runway Model
10.11.2013
By Julien Sauvalle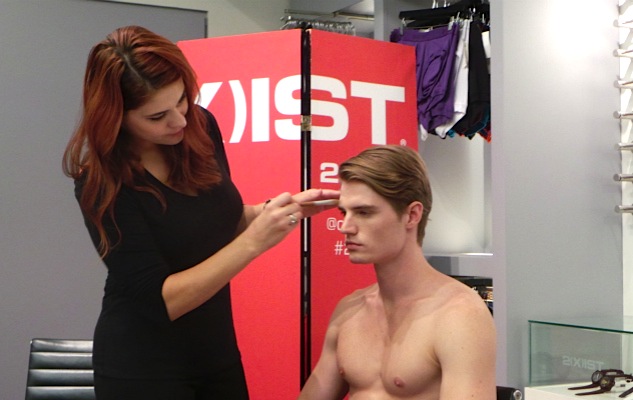 Janessa Paré works her magic on Julian
"Mentalities are changing on makeup for men," says Janessa Paré, global guest make up artist for Aveda. "Men who have to look good for their job aren't afraid of using a little bit of concealer or BB cream to hide small imperfections. And with the right products, you can achieve a natural look that will enhance your complexion unassumingly.
"There are two essentials you should try: a tinted moisturizer and some concealer. In your daily skincare routine, substitute your regular moisturizer with Aveda Inner Light Tinted Moisture ($28, 1.7oz), an eco-friendly lotion with SPF 15 that comes in a variety of tones. Make sure you get the right shade for your skin by testing it on the back of your hand first. Apply the lotion evenly over your face and neck, without forgetting the ears.
"To cover blemishes and redness, follow with a touch of Inner Light Concealer ($18, 0.24oz). Put a small amount on the back of your hand, and use an angle brush to apply the concealer where there's an imperfection. With your finger, dab over the zones where you put the product to blend it in. Think about the top of your ears, too, if they often turn red.
"Applying some Lip Saver ($8.50, 0.15oz) to make sure your lips look smooth. If you have combination skin and you tend to get a bit shiny on the forehead and nose during the day, you can pat the excess sebum off with a sheet of blotting paper or with the back of your hand."
SLIDESHOW: 2(x)IST Spring/Summer 2014 - Full Collection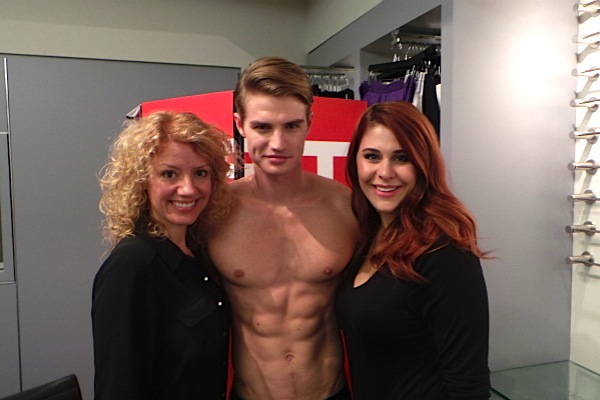 Michelle Combs, Julian Naderer, and Janessa Paré after hair and makeup