How To Look Like A 2(x)IST Runway Model
10.11.2013
By Julien Sauvalle
Pictured: Model Julian Naderer (RED), before and after the grooming session; Michelle Combs (bottom right)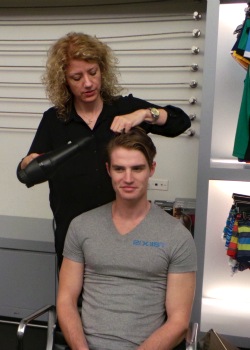 "The look of the models this season at 2(x)IST was clean, gentlemanly, and very contemporary," says Michelle Combs, mentor hair stylist at Aveda. "We tried to achieve an effortlessly polished look without making it look stiff and overly styled."
"To get this look, start by spreading a dab of Aveda Men Pure-Performance Grooming Clay ($23, 2.5oz) on clean hair. Create a side part with a fine-toothed comb, and let dry.
"Follow by spraying a little bit of Volumizing Tonic ($18, 3.4fl oz), which will give texture and a matte finish to your hair. With your comb, spread the tonic evenly throughout the hair, cleaning up the side part you've just created.
"Use a blow-dryer with a diffuser attachment to dry your hair while you're combing. You can fiddle with it a little bit, grabbing the hair at the root and pulling back lightly with a brush.
"To make sure everything stays in place, you can spray a small amount of Control Force Firm Hold Hair Spray ($27, 9.1oz). Now, let's move on to skincare!"
SLIDESHOW: 2(x)IST Spring/Summer 2014 - Full Collection
NEXT: A FLAWLESS SKIN