Tattoo You
10.9.2013
By Julien Sauvalle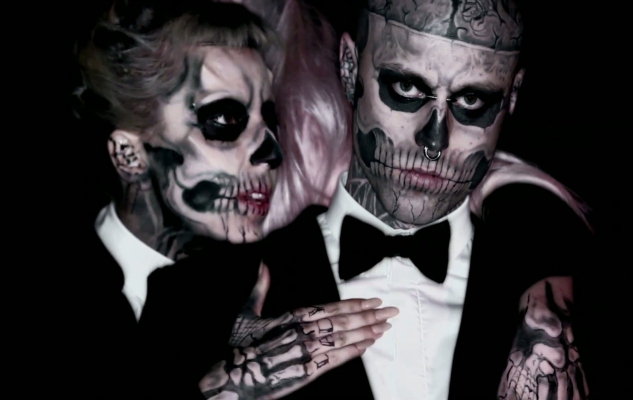 Pictured: Lady Gaga and Rick Genest in 'Born This Way'
TAT DOS AND DON'TS
Even diehard ink enthusiasts should follow these rules:
DON'T
Expose your tattoo to the sun
Sun is a tattoo's worst enemy: It breaks up the ink, burns the tattoo, and fades it. Avoid exposing your tattoo for the first two weeks. If you must be in the sun, keep your tat covered and apply a fragrance-free sunscreen with a high SPF.
DO
Keep working out
It's fine to hit the gym after getting a tattoo, as long as you clean it afterwards. If you feel like exercising is stretching your skin and making the tattoo feel uncomfortable, take a few days off.
DON'T
Pick
Scabs and flakes are no cause for alarm—they're a normal part of the healing process. Don't scratch or rub your tattoo. If the itching gets unbearable, slap it with the palm of your hand.
DO
Wait for a touch-up—but not too long
It's best to get a touch-up a month after your first appointment, once your tattoo has healed. But if you do it too long after that, the ink may look different.
DON'T
Swim
Soaking your tattoo in water during the three-week healing process is a no-no. Lakes and pools are full of bacteria and chemicals, so wait to swim until your tattoo has healed.
DO
Be careful with pets
Playing rough with Fluffy could result in a scratch. Keep things chill until the ink settles.