Cool As a Cucumber
7.24.2013
By Julien Sauvalle
Skincare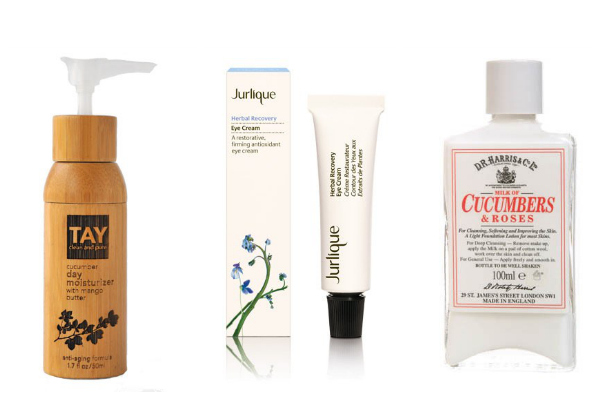 From left: Tay Cucumber Day Moisturizer with Mango Butter ($68, 1.7 fl oz), at C.O. Bigelow; Jurlique Herbal Recovery Eye Cream ($40, 0.5 fl oz), at Jurlique.com; DR Harris Cucumber & Roses Cleansing Milk ($39, 3.4oz), at C.O. Bigelow.
Here's a completely cucumber-centric skincare routine. Start by dabbing a drop of Jurlique eye cream under your eyes, the ultimate alternative to the cucumber slice cliché.
Follow with a layer of Tay moisturizer over your face: Cucumber has tonic properties that calm the skin and tighten the pores.
At the end of the day, wash your face with DR Harris cleansing milk, an ultra-soft concoction to remove all the dirt. It also contains a mild antiseptic that neutralizes blemishes.
NEXT: Protect your skin