WATCH: Louis Vuitton Fall 2014
1.16.2014
By Julien Sauvalle
Photo: Louis Vuitton / Matthieu Dortomb
The Louis Vuitton traveller went on a trip to South America this season. A digital look (from above) at the wonders of Peru inspired creative director Kim Jones:
"Our collections have always been about travel," Jones says for Louis Vuitton, "but the idea this time was technical travel, digital travel, the implications of the fact that we can now see the world through a screen. We looked at NASA maps of the world from space, and at aerial photographs of Machu Picchu, Cusco, the Atacama Desert, and the Nazca Lines in Peru."
Watch the runway show here.
Jones also sourced local materials for the collection, and decided to transform one of the most iconic staples of the Louis Vuitton brand: This season sees the introduction of the Damier Cobalt, an inky-blue version of the signature square pattern found on the house's leather goods.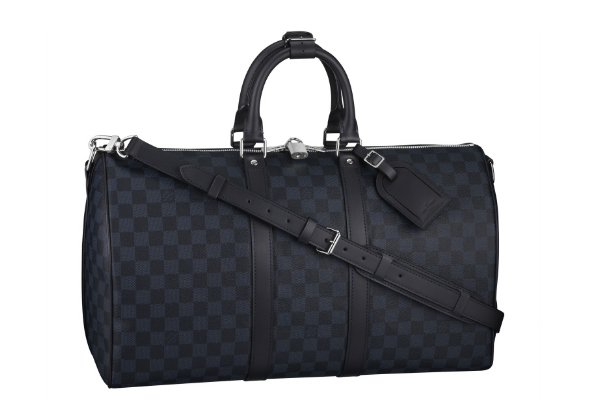 "I always think of midnight blue as being very Parisian," Jones says. "I wanted to redevelop the Damier in some way, and for me this was the most logical. It fits with my passion for color, but it's also discrete enough to be appropriate for business."
The new Damier Cobalt appears on a special version of the classic keepall bag (pictured, right), as well as on totes, messengers and folios.
All of the bags have been moderniszd with tonal versions of the masculine Vuitton trunk handle, combining metal and leatherwork. Many can be folded down as well, showcasing the new leathers of the season: a nubuck featuring a grain inspired by Epi, a silver mirrored calf debossed with the Damier check, and rubberized leather.
The Damier Cobalt collection is already available online at LouisVuitton.com, and will hit Louis Vuitton stores on January 31.