Two Brides Close The Chanel Couture Show
1.23.2013
By Julien Sauvalle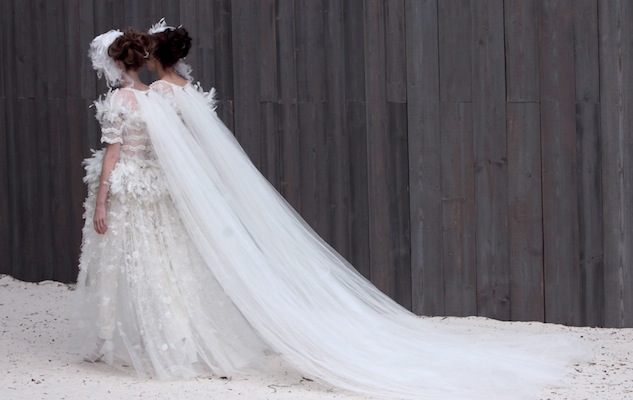 Photo: Loic Venance / AFP
Not one to keep his tongue tied, Lagerfeld said that he was "less keen" on male couple raising a child together or, in his own words, "ordering children from a lady," adding that men should only adopt children who don't have parents. "Two mothers seem to me better than two fathers", he told the journalists. "A child without a mother, it's a bit sad."
Lagerfeld had voiced his disappoval of same-sex marriage in the past in an interview with Bruce LaBruce for Vice magazine. Back in 2010, the designer told Vice "I'm against it for a very simple reason. In the '60s they all said we had the right to the difference. And now, suddenly, they want a bourgeois life." He also made a similar distinction between female couples and male couples raising children.
Chanel's brides come out a week after Elle magazine audaciously put two women on its cover with the headline "Marriage For All." Is Lagerfeld offering his genuine support to the LGBT community, or is this a skillful publicity stunt? The floor is open for discussion.