The New Dreamgirl: Alex Newell
8.14.2013
By Shana Naomi Krochmal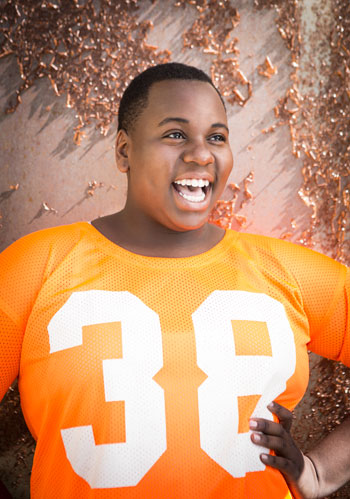 "Playing Unique hasn't changed how I feel about myself," says the 21-year-old actor, who identifies as male. "But it has changed how I hold myself. Unique is so confident that I found myself [saying], 'You need to be the role model that your character intends you to be.' " While prepping for this year's SAG Awards, his stylist balked at the idea that Newell would — as usual — wear high heels on the red carpet. "I was like, 'It will go with my outfit.' No matter what I wear, I'm still being true to myself."
Newell has been upgraded to a season regular starting this fall, but Unique's future hinges — like that of all the Glee characters — on the whims of creator Ryan Murphy. Newell is pulling for more screen time and at least one power ballad in the show's fifth season. "I really want Unique to have this emotional moment with a song to express herself," he says. One of his suggestions for showstoppers: "I just saw Kinky Boots, and Lola [played by Billy Porter] sings 'Hold Me in Your Heart.' I think that has a really great message."
In the meantime, Newell has spent his summer trying to catch up on some much-needed rest — "I go to sleep at 10 o'clock," he says — and singing Beyoncé's "Listen," from Dreamgirls, among other tunes, at pride events from San Francisco to Louisville, Ky.
"You don't really think Salt Lake City and think of a big pride celebration," he says. "I was really shocked by that one." In addition, his big-screen debut, Geography Club, the long-awaited adaptation of one of the first gay young-adult novels, is currently playing at film festivals, with a release date set for later this year. Not bad for a fourth runner-up. "It shows that you don't always have to win to get the spotlight," Newell says. "It's all about how hard you work and how hard you want it. I wanted it so bad."
The fifth season of Glee premieres September 26 at 9 p.m. EST.