Murphy's Honor
4.11.2013
By Natasha Vargas-Cooper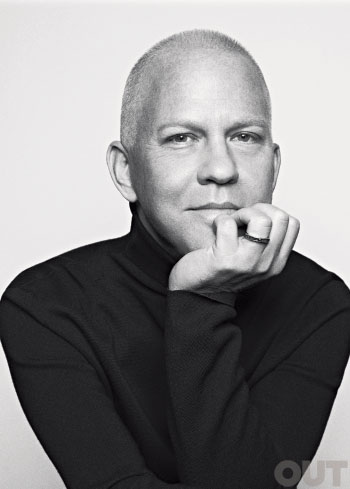 "No," Murphy scolds. "I hate that word." He goes on: "That description could not be more wrong." For Murphy, who prides himself on the well-thought-out tone of his shows, the term "camp," often applied to gay showrunners like True Blood's Alan Ball or Desperate Housewives's Marc Cherry, is an insult.
"To me, Showgirls is camp. That's a movie where the creators clearly thought they were making All About Eve. They took it super seriously and lost the tone along the way. I don't think my tone ever really gets away from me -- it's all deliberate. I just think 'camp' is an easy blanket term, and it's not accurate for me or a lot of other gay people." Murphy takes another long pause. (Since he isn't much of a smiler, it's very easy to think he's mad at you when he goes into these silences.)
"I mean, I get it," he says with a little flip. "I think there's an outlandishness, a flamboyance, and a heightened realism to my work, but camp is an umbrella I don't particularly like or agree with."
I ask Murphy if he identifies as a "gay writer."
"No," he replies, without hesitating. "I don't even know what that means anymore. I feel like I'm a lot of things: a gay man, a father, a man who likes to wear black. I feel like I am a gay man, so I know how important leadership is in our community, and I'm always the first to champion the rights of gay causes, and I spend a lot of time and money doing that, but I don't think of myself that much, which I'm sure people will be shocked to hear."
Murphy juggles his many projects through a system of delegation and "tone meetings." Each show has a strong coproducer or showrunner who can run the day-to-day operation of the writers' room. Then, at scheduled times throughout each working day, Murphy will meet with the show's writing staff and issue orders on plot points he wants in an episode or listen to plot pitches, all while maintaining, as he puts it, "the proper tone."
With Glee, for example, Murphy came into a recent meeting and declared, "I'm obsessed with 'At the Ballet' from A Chorus Line, and I want Sarah Jessica Parker to sing it during some kind of blackout, where the kids get back to basics." Then it was up to the writing staff to figure out how to make that work. Sometimes Murphy's plot instructions are a little more esoteric; he's been known to come into a room and say things like, "I'm obsessed with the color orange right now. Figure out a way we can do a tribute to orange."
But even with three shows and a movie in development, Murphy gets home in time for dinner with his new family every night. "I've always been obsessed with babies, ever since I was young, so I'm happy to finally have an actual one in our house," he says. Other current obsessions for Murphy: skulls, barns "for livestock or entertaining," birds, and the birdcages Martha Stewart made for her canaries. "I don't know, I guess I'm nesting," Murphy says, cracking his first smile of the day.