Emilia Clarke: Capote's Call Girl
3.6.2013
By Mike Berlin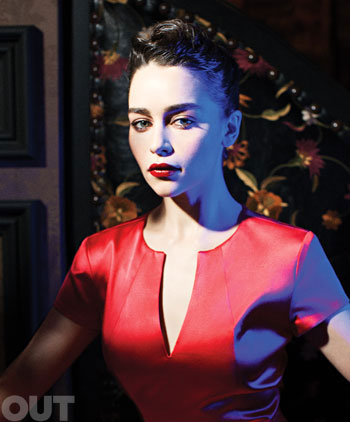 "She's a good-time girl," she says. "For me, archetypal good-time girls always have a tragic story. There's something fascinating about them—it's this quality that people want, but you can't quite grab hold of it or contain it, because it's forever transient."
Clarke, who's 25 and recently graduated from the Drama Centre in London, is approaching the role with a rapt diligence, given that it's her first stage gig. There's a hint of Golightly bubbling up in her. She has a vampy tendency to refer to things as "fabulous" and people as "dahhhling." Upon appraising a selection of challenging shoes for our photo shoot that day, she remarks blithely, "Me and heels are very good friends." Later, she adds, "I'm always the person that's just slightly overdressed," before breaking into laughter. "Hopefully in a good way!"
The 1940s gowns and, in her words, "yaaaaards of chiffon" being designed for Tiffany's won't be the first period pieces to hang elegantly on Clarke's petite frame. As Daenerys Targaryen -- a.k.a. Khaleesi, Mother of Dragons -- on HBO's Game of Thrones, her midriff-bearing tribal ensembles seem to have been exquisitely torn and sewn by the Alexander McQueen of Westeros.
The role of Khaleesi—the young virgin who is sold by her brother to the king of a barbaric clan of nomads and later becomes their merciless leader -- was one of the first the actress landed. Now entering her third season at the end of March, Clarke has made the dragon-lording queen one of the series' most compelling characters, due to a combination of exotic beauty, strength, and some of the goriest scenes on the show, including one in which Khaleesi must eat an entire horse's heart in front of her husband's followers.
"They had 25 horse hearts," she says. "And I ate so many of them. It was really disgusting. They were basically just Jell-O covered in bleach. All the outtakes are of me genuinely retching into a bucket. It was in no way glamorous." And a far cry from Holly Golightly nibbling on a croissant in the reflection of a jewelry store window in Manhattan.