Emilia Clarke: Capote's Call Girl
3.6.2013
By Mike Berlin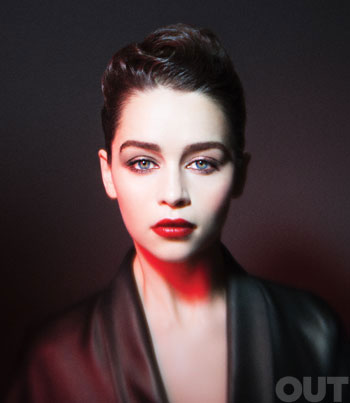 Shot by Gavin Bond at Cherry in the Dream Downtown NYC
" 'Everybody couldn't help but think I was a dyke myself, and of course I was—everyone is a bit,' " says Emilia Clark, quoting Holly Golightly, the manic heroine of Truman Capote's 1958 novella, Breakfast at Tiffany's. Golightly has been cemented into the American pop cultural canon since Audrey Hepburn's film portrayal of her in 1961, but the young British actress is preparing to make the ostentatious gadabout her own this season at Broadway's Cort Theatre.
From the novella, the quote is one of those deliciously haughty affirmations that Golightly puffs out faster than the "esoteric cigarettes" she smokes. It's also a taste of the real appeal her bawdy character holds, beyond the sublime sight of Hepburn, bibbed in pearls and clad in the littlest black dress, swanning up and down Fifth Avenue.
According to Clarke, those only familiar with the film's tidy rom-com conventions -- the fledgling writer Paul (played by George Peppard), whom Holly insists on calling Fred, tries, and succeeds, in taming his downstairs neighbor Holly's wild heart -- will discover a richer, darker, and perhaps swishier story in the play. "The movie kind of glossed over a lot of stuff," says Clarke. "I just think they missed the depth the novella offers, and the subtext and what it's saying about the time and sexuality."
For starters, Capote's original Fred, played by Corey Michael Smith, is a bit more precious on the page than onscreen. (In the stage adaptation, Golightly refers to him as one of the "young boys with limited means and unlimited confusion.") Though admittedly obsessed with Golightly, Fred seems less ruled by a desire to have her than to be her. And, asks Clarke, who wouldn't be?