Rob James-Collier: Oh, You Handsome Devil!
1.3.2013
By Aaron Hicklin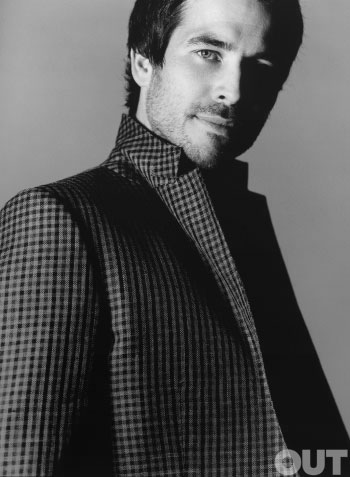 If you grew up in Britain, as I did, the world of Downton Abbey is a familiar one, conjured in an endless parade of finely wrought television shows, which we send across the oceans like telegraphs from our gilded past. Some of them, like 1981's 11-hour miniseries, Brideshead Revisited, which introduced Jeremy Irons to the world, or 1995's six-episode serialization of Pride and Prejudice, which did the same for Colin Firth, strike gold. Few, however, receive quite the rapturous reception of Downton Abbey. The reason, perhaps, is fairly simple: Although Downton wears the clothes (and production values) of quality drama, it has the soul of a soap opera. As my boyfriend likes to say, it's very efficient, meaning that things happen at lightning speed. Resolutions come thick and swift, which is all part of the pleasure.
Fellowes himself takes credit for modernizing the format by borrowing his style from U.S. shows like The West Wing, but it's also that the concerns of the show are discernibly our concerns, albeit in Edwardian costume. For James-Collier, "Downton Abbey is a workplace like any other. You're going to get cliques of people who don't like each other -- Thomas and O'Brien versus Bates and Anna -- and you're going to get people who really love doing their jobs and people who are bitter and feel they're just a number. It's about relationships in the workplace environment, and people can identify with that because the same problems and political conflicts you have in work today were relevant back then."
Coincidentally or otherwise, almost all the actors who play servants in Downton Abbey got their start in English soap operas -- gritty exercises in social realism, fully rooted in working-class culture. The oldest of those shows, Coronation Street -- set in Manchester -- has run continuously for 52 years, and nurtured generations of acting talent. James-Collier arrived on the series in 2006, as "loveable rogue" Liam Connor, and stayed for two years before deciding he wanted to take on a different kind of challenge.
"It's a great, brilliant show, but you have to make a decision," he says. "I'm not knocking anyone for going that way [of soap operas] -- you can get security, and God knows we need that, but I think you're limited then in terms of your options as an actor." After Coronation Street, he was out of work for 15 months, waiting for the right thing to come along. "I watched people who had left these kinds of shows and had seen what happened," he says. "So I knew you had to literally put the shutters down and just pray and hope that something would come along, and when the wolves were near the door, Downton Abbey came."
James-Collier has joked that his character's sexuality became so muted in season 2 that he called up Fellowes and asked, "Am I still gay?" Yes, it turns out. In season 3, we get to see Thomas outed in a powerful sequence of episodes that James-Collier considers the best acting of his career. "It's the series where we really comes to grips with Thomas's sexuality and the impact being gay must have had on him, in Edwardian times," he says. "If you're including a gay character, there's an onus and responsibility to at least show what the impact of the time will be on him, and of him on that time. Thankfully we've done that, and I'm so proud that I've been used to tell that tale."
A confrontation between Thomas and the butler, Mr. Carson, proves to be a high point, and one that confers uncommon dignity on the footman. "It's a lovely, beautiful moment," says James-Collier, clearly delighted by the opportunity to redeem his character. "If you were gay in those times, the fact that you're even functioning, how you're not completely fucked up by that, is beyond me."