The Starter Marriage
8.7.2012
By Shana Naomi Krochmal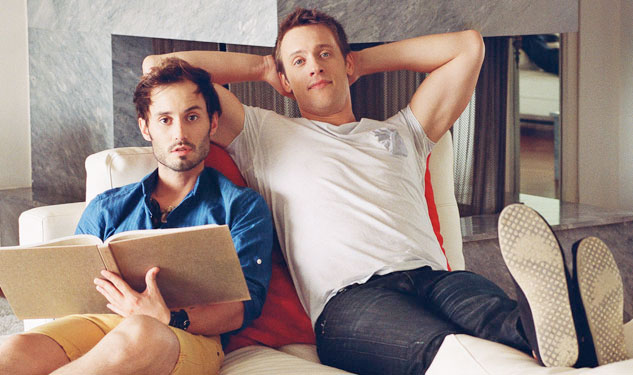 They went out on a series of three-hour lunch dates. "We started talking about I Love Lucy," Bell says. "That was the first show that ever had an interracial relationship on TV. We said, 'Where's the sitcom about gay newlyweds?' " Add in Mad About You, a little Modern Family, and a hint of Will & Grace, and they ended up with Husbands.
The series also stars Alessandra Torresani (Caprica) as Cheeks's BFF and Sean Hemeon as Brady, the ballplayer. Hemeon has a soap-opera jaw, deceptive depth that emerges during the show's more tender moments, and an earnest gratitude for the show's matter-of-fact approach.
"I identify with Brady in so many ways," Hemeon says. "Especially as a gay man, wanting to put out this wholesome image of myself. There were a few years there as an actor that I thought I needed to be in the closet. Working on this show has torn apart that structure."
They'll be joined by a host of stars in guest roles and cameos, as well as actors who have worked with Espenson on TV. Plus, there's her former boss and Avengers writer/director Joss Whedon as Brady's panicked agent.
"He kept saying, 'I'm not an actor! Tell me if I'm not doing this right!' " Bell says. "But it was absolutely perfect." Espenson says proudly, "He told us that this was material that he wished he'd written."
So why aim for bite-sized streaming success instead of the prime-time lineup? "We can make exactly the show we want to," Espenson says. "[TV execs] are convinced that only gay men would want to watch this, even though our demographics are 80% straight women," Bell says. And Husbands is in a bit of no-man's-land between the Wild West of the Web and risk-averse broadcast fare. "It's not Girls," he says. "It's a sweet little sitcom. It's not salacious, but it's not TV's definition of family-friendly -- even though there's nothing that you wouldn't see Lucy and Ricky doing."
Go to HusbandstheSeries.com to watch.