Brendon Ayanbadejo: Our Kind of Ally
7.17.2013
By Amy K. Nelson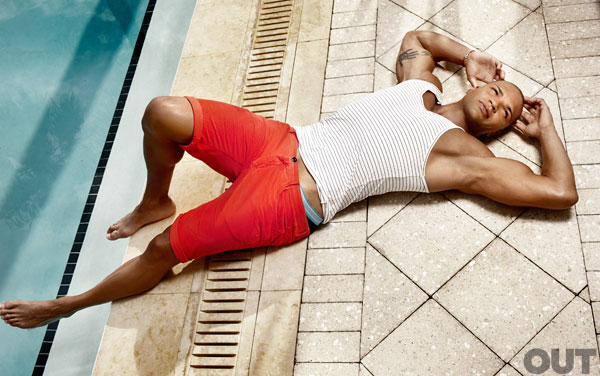 AKN: What did you think of Chris's photo shoot [for the November 2012 cover story of Out]?
BA: I know he's got this one shot where it looks like he's in a field and his hair is blowing in the wind; he definitely looks like a model.
CK: My wife requested I be shirtless in my photos, so…
BA: It was a great picture. I can respect the art of the picture and the subject and the camera work that goes into it. I hope they all turn out that good.
AKN: Has another man ever asked you to blow him?
BA: Let's put it this way: The straight women are more aggressive than the gay men. They say a lot more ridiculous things than a gay man would say on social media.
Whatever the guys say, I know a lot of it is joking -- just being fun, flirting -- whereas a woman will go way out there and say some crazy stuff. If I replied to a woman saying that kind of stuff, my wife wouldn't appreciate it. So to the guys, I'll say, "Maybe in another life," or something else, joking around. It's never gone that far.
I think people respect that we're willing to have the LGBT community's back and they don't want to cross that line. They understand that we're straight allies.
CK: Same thing as with Brendon; I'll get funny messages from people, but it's…whatever. People will say things [on the Internet] that they would never say to your face in real life. The key is just to be comfortable with who you are. I'm happily married to my wife, so you just laugh at it and give a funny response—that's what people are looking for.
AKN: Both of you have had to answer so many questions about whether your activism was the cause of your unemployment. Why do you think that comes up so much?
CK: Brendon and I were in the news quite a bit for our work trying to fight for marriage equality; I think that's just something that can be looked at, to say, "Hey, are they focused completely on football?" Brendon won a Super Bowl, so I think he's pretty focused on football. It's just one of those things we have to deal with in our society.
BA: Everybody likes to think of a conspiracy theory. I'm part of the conspiracy, I guess, for Chris. It makes me scratch my head a bit -- for Chris, he's the same player he's been throughout his career, the leader in punting history for the Vikings, so the timing is kind of odd.
AKN: Around the NFL, there's been a lot of advancement in the discourse around this issue, even in the last year -- it's shifted a lot. But what team in the league do you consider the least embracing of this issue?
CK: I don't know, because I haven't been with every team—I don't think you can single out a team to say, "This is the worst team" or "This is the best team," because they're composed of a variety of individuals. It's just like society.
BA: I think you have to look at which teams do embrace it, instead of which teams don't embrace it. Teams that don't embrace it, they're just silent, but the teams that do embrace it, they make an imprint. The San Francisco 49ers, the Baltimore Ravens, the New York Giants -- they have some sort of tie to the LGBTQ community. The teams that are quiet -- why are they quiet? Is it because they don't accept the community, or is it because they haven't had the chance to make themselves be seen? When Jason Collins came out, you saw the entire MLB endorse him. You saw various teams in the NBA endorse him, but you didn't hear much from the NFL -- [they] definitely have some work to do.
SLIDESHOW: See More EXCLUSIVE Brendon Ayanbadejo PHOTOS
AKN: Even before this was more publicly talked about, did you feel that there were owners and/or teams that were either not embracing the LGBTQ community or were potentially discriminatory?
BA: I've heard it from different people and different organizations, whether they're coaches or pastors or even players on other teams. This was several years ago; now the talk is completely different, the tone is completely different.
CK: I think it's really just a matter of education. Where a lot of guys would, as Brendon said, kind of just unthinkingly say whatever they had been taught. Now you actually have guys who stop and think and realize, Hey, I have a family member who may be gay, and this will have a real impact on their life. It's a welcome change, and I think it's the way our society is moving toward having more personal freedom, having more control over your life rather than less.