Queen of Swords
7.15.2013
By Natasha Vargas-Cooper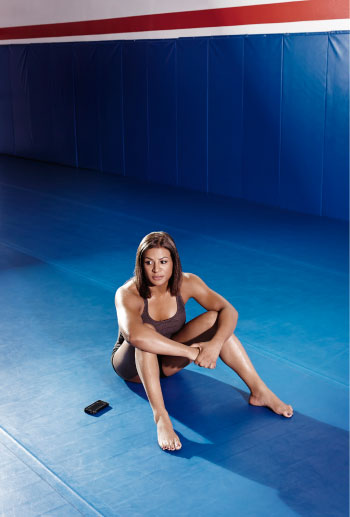 Fox turned up at the Midwest Training Center in Chicago in 2010 already a skilled female athlete. For seven years she had studied jiu-jitsu, winning a handful of local competitions. But jiu-jitsu keeps you on the ground, and Fox wanted to stand up. She was attracted to MMA because, in her words, it's "three-dimensional." In a street brawl, "a fighter would use the dimension of their body in any way they could." Aside from the fact that fighters are fenced into an elevated cage, Fox considers MMA "the most realistic sport there is."
From the start, Smith believed Fox could go pro. Aside from her wild punches, Fox had a formidable technique and an unflagging work ethic. "It's a gladiator lifestyle," Smith says. "We live like struggling artists, and Fallon has always been OK with that." While many trainers become surrogate fathers to wayward fighters, Fox and Smith, only a few years apart in age, treat each other as peers -- sometimes razzing, other times politely distant. Smith can't be too protective of Fox because she won't allow it.
"For a while, guys at the gym would come up to me and say, 'You know she's a dude, right?' " Smith recalls. "I would just tell them to fuck off."
When Fox came to the Midwest Training Center, she'd already undergone all her surgery. Since she went public, though, no one mentions it to Smith. "Fallon's just Fallon to me," he says.
Fox doesn't identify as transgender. "That's too broad," she explains. "What happened with me is something specific: I'm a transsexual woman."
To make an obvious, but necessary, point, mixed martial arts is probably the last place an athlete would turn to have a rational conversation about post-structuralist gender identity. MMA is an inferno of primitive machismo; a delirious orgy of knees to the mouth and elbows to the nose; a greasy parade of gladiators. It is, in the words of Joyce Carol Oates, a "romance of maleness." Women MMA fighters are still a novelty side act: They don't hit as hard, they don't sell as many tickets, and they, ironically, don't bleed enough. Fox's own upcoming fight will be sandwiched between 15 male bouts.
"I've gotten so much support from the trans community and the media," Fox says. "It just makes me feel like—there are bullies and bigots who are in MMA. I mean, that's why some fans are into MMA in the first place: They want to see people get beaten up. But I'm just going to ignore them and keep winning fights."
In Florida, the licensing commission for MMA fighters tested Fox's hormones and approved her to fight in the women's league. In just three months, she's picked up seven new sponsors, made international headlines, and transformed from an unknown fighter with just two pro fights under her belt (both of which she won) to a marker of social progress. But, as Fox would learn Friday night, being a marker of social progress also makes you a target for all of those darker, if not downright medieval, forces of ignorance and reaction.
Fox, born Boyd Burton, was the middle child of three, raised in a bleak suburb outside of Toledo. Her parents were devoutly Pentecostal and kept her in line with their strict orthodoxy. She was held back a year in elementary school, then homeschooled by her mother with a superstitious, creationist curriculum while her father worked as a local factory hand. Fox skipped her junior year of high school and was plunked down in public school as a senior. She tried out for the wrestling team and thrived. "High school was just high school," she says, adding that it was no less traumatic for her than it was for any other teen.
"I come from a place where you marry young and have kids early," Fox says in a mock-folk twang. At 19, she got her girlfriend pregnant. She married, enlisted in the Navy, and worked to support her new family. "Here, want to see?" She reaches for her iPhone, which has been chirping and pulsating all night with well-wishing texts and Facebook pokes. A finger-swoosh and there is Fox, a beaming young man snug in an immaculate uniform. His arm is pulled tightly around his dad, who is also grinning widely at the camera. "Crazy, right?" She no longer speaks to her father.
In her mid-20s, Fox quit the Navy to enroll in college. After a short stint at the University of Toledo, she dropped out due to the anxiety and depression brought on by her gender crisis. Her hair was falling out from stress. She then learned through online research she could have gender reassignment surgery on demand in Thailand. "There," Fox says with finality, "I found a name for this thing I had felt for years and years." The decision was made: She would find a well-paying gig and save up enough money to have a sex change.
Fox worked as a truck driver for the next several years, doing 10-hour hauls out of Chicago, sleeping in grubby motels, atomized and silent in her rig. She consumed hours and hours of audiobooks on the road -- her favorite was Christopher Hitchens's God Is Not Great -- and tried to learn everything about her upcoming surgery, listening to accounts from other trans people. She checked out more books on science, philosophy, biology -- it was her first real introduction to the secular world.
"My truck was like my fortress of solitude -- I had all this time alone, just thinking, thinking, thinking," Fox says, her eyes wide. "There were these long stretches where I was forced to deal with everything that was in my head." Removed from the larger world, she doesn't look back on the time fondly, but seems to regard her trucking era with a grudging respect; it was a formative period, a time of mandatory introspection, a long interchange between lives.
After four years of trucking, Fox earned enough money for her surgery and traveled alone to Bangkok, 7,000 miles away. There, she went straight to the hospital and, after her procedure, convalesced for six weeks with no visitors besides her doctors. She called her mother, who knew of the operation but hoped a miracle would intervene. "She answered the phone, and I told her I just had the surgery," Fox says, recalling the anguished sigh on the other end of the line. "Then I realized that I don't need to help [her] through this. That's her own deal. I found peace, and I let go." Fox no longer speaks to her mother.
Fox doesn't have many memories of her stay abroad. She remembers using a walker to go to the bathroom, playing Xbox during her few hours of consciousness, and emailing with her daughter, now a teenage track star and honor student. Fox has full custody of her daughter and describes her as her "best friend."
When she arrived back in the United States, Fox was only halfway done. "I didn't feel like a complete woman until I did my facial surgeries," she says.
Fox had her features feminized: Doctors pulled up her hairline, lifted her brow, and deemphasized her jawline. "I think it erased all doubt," she says, then describes the other womanly sensations new to her body.
"I don't want to be oversexualized," she cautions. "That's something that happens to so many female athletes."
But it's difficult not to sexualize Fox, because she is sexy. Like other female athletes, who by their own genetic makeup possess the most alluring characteristics of both sexes, Fox is a bewitching mixture of soft and hard. Hers is a body that defies circumstance. At 5-foot-8 and 143 pounds, she's free of body fat. Handsome biceps and triceps rope around her arms. There are big curves up top and smooth, delicate thighs with scarred shins down below; sinewy abs bisect her petite stomach, and her face is wide like a housecat's. Her exaggerated jawline is offset by the fullness of her lips; she has perfectly sculpted Kardashian brows adorning soft caramel eyes.
I ask if she gets a lot of male attention. "Of course!" she says with swagger. "It's an ego trip, for sure."
Fox's trans beauty and sexual charisma fuck with some very primitive anxieties that riddle hetero men. "Ever since man emerged from the dominance of nature," sexual historian Camille Paglia wrote, "masculinity has been the most fragile and problematic of psychic states." Where is this fragility more exposed than in the dark sanctum of a fight arena?
As we leave dinner, a car comes screeching into the strip mall parking lot. It circles near us, idles, then circles again. Fox squares her shoulders, and her face turns to a hard mask with her nostrils flaring wide. She puts a hand out in front of me. The car circles again. Fox looks ready to brawl, then stops herself. "Let's get the fuck out of here," she says, throwing open the door of my rental car angrily.