Kevin McClatchy: Team Player
4.17.2013
By Jerry Portwood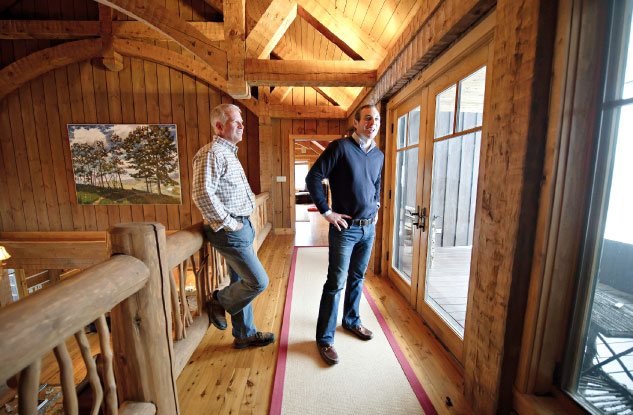 In New York City, McClatchy did chance going into a gay bar, but was clocked by a college frat brother who yelled his name while he ran away.
In 2007 McClatchy stepped down as CEO of the Pirates. Now in his 40s, it was time for him to find the next challenge -- and finally begin having a personal life. "Jack would have hated me in baseball. It wouldn't have worked out," McClatchy admits. "If we lost, I would not talk; everyone avoided me. I was not fun to be around at all."
In March of last year, he was made chairman of the board of the McClatchy Company. Years after his parents divorced, he'd become the paterfamilias of the company his father had built. "It's a great time, in a strange way, to be involved in the industry," he says. While the company's CEO handles the brunt of the business decisions, McClatchy remains involved in the vision for its future. "Newspapers have faced challenges before, but if we evolve and change, and appreciate digital marketing, we can save newspapers as we know them. It's one of the most important things we can do in society."
"People have an insecurity, and they like to use the locker room as an excuse," McClatchy says. Dressed in blue jeans and a plaid button-down, he relaxes on his sofa as he opens up about the problems faced by pro sports. It's days after a report of NFL scouts prying into a player's personal life, asking questions about his sexual orientation, has leaked and caused a firestorm of criticism. "There is no other business in America where you can go ask questions of employees like that," he says. "We have men and women sacrificing their lives to protect our lives overseas that are showering with each other. We have firefighters, police officers, who can make it work. We need to stop using it as an excuse."
Newspapers may be his job, but sports still get him fired up. "I think sports can do a better job," he says. "I think there's got to be a lot more education and sensitivity training—not just the HR directors in the front office, but with the coaches and the minor league coaches. The last thing I want to see is a high school student make bad decisions in his life because he thinks he can't play. There has to be a message that if you're gay, it's OK to play."
He's still friendly with Major League Baseball Commissioner Bud Selig and, before he came out in the Times, he called Selig to let him know about the story and offered to talk to managers and teams about why baseball needs to change, and the inevitability of an out gay player.
"This is going to happen, and it's not a big deal," McClatchy told the commissioner. "Baseball is a game of statistics; it doesn't lie. Your ability doesn't lie. If you're batting .320, whether you're dating a guy or a gal, it's not gonna matter." But the commissioner -- or anyone else in management -- has yet to approach him.
"Although it's not an official policy in sports, 'don't ask, don't tell' is still running strong," he says. "When I came out, somebody who's a fairly high-profile business person said to somebody else, 'Why did McClatchy feel the need to come out? We were fine with it. Why did he need to do it? Just don't talk about it, it's cool.' I think a lot of that goes on in sports, but it's changing. And it will change quickly once that first professional athlete comes out."
A few days before this year's Super Bowl, Chris Culliver, a backup cornerback for the 49ers -- one of the first professional sports teams to support Dan Savage's It Gets Better Project -- had provoked outrage after telling a radio reporter that gay players were not welcome on his team. The usual mea culpa was issued, and Culliver agreed to meet with representatives of the Trevor Project, which works with LGBT youth. For McClatchy, though, it was just another reminder of the scale of the task ahead.
"I think some people don't get exposed to some of the bigotry that is out there," he says. "But I've heard it for years. That issue is not done."
But it's Sunday afternoon, and that means there's a basketball game -- or a few -- to watch. In this home he's created, McClatchy can survey it all. He gets out his remote and positions himself in front of his three large flat-screen TVs. Let the games begin