Kevin McClatchy: Team Player
4.17.2013
By Jerry Portwood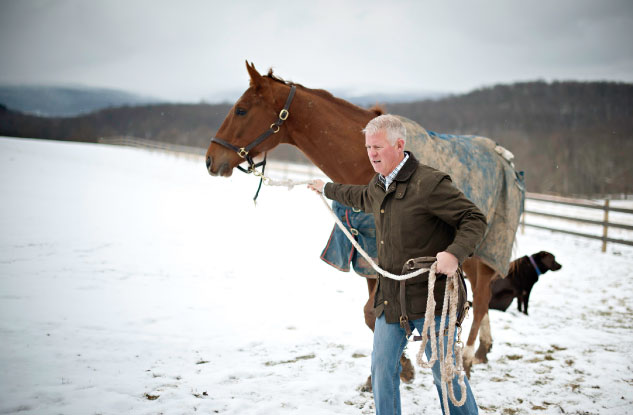 Kevin McClatchy with his and his partner, Jack's, horse, Gaucho.
After committing so many years to baseball, however, he also thought sports could do a better job. It needed to change. He'd met Billy Beane, the pro baseball player who came out in 1999 after retiring from the game, and they became friends. "His story fascinated me," McClatchy says. Then Rick Welts, at the time the president and CEO of the Phoenix Suns basketball team, came out in 2011, and that got McClatchy thinking it might be time to follow suit. But he wavered.
"It was a timing thing. Everything in my life was going well, and I didn't want to screw it up," he says. But he also wasn't doing it alone. "In some ways Jack helped me to come out faster. His generation, they look at the whole issue much differently than I do. The progress they made has made it easier for me."
"Any time a bullying story would come up, we'd talk about it," Basilone explains. "He'd say, 'Even if I help one person, I should come out openly.' Those conversations had been two years in the making."
"I had gone through a certain amount of my life having to tell a lie, not talking about my life, and it got to a point where it made no sense," McClatchy says. "It became clear to me that I was ready to come out. I am sure there are people out there -- and I've heard this -- who say, 'You should have come out earlier.' But until you walk in someone else's shoes, it's tough to understand why."
McClatchy always had big ambitions. At 15 he started to dream about owning a professional sports team. At Trinity-Pawling, an all-boys boarding school, he spent a Thanksgiving with the family of his roommate, Dan Rooney, who owned the Pittsburgh Steelers. "I went to a practice and I met Joe Greene and all these guys on the team. I was just enamored of the whole thing," he says. "I told Danny, 'One day, I'm going to own a team like you guys do.' "
The youngest of three children, he was born in Sacramento, where his family's first newspaper, The Sacramento Bee, was founded in 1857. When he was three, his parents divorced and he moved with his mother to San Francisco. When she got remarried (to architect John Carl Warnecke, a friend and confidant of President John F. Kennedy), he became the youngest of a family of seven children. But he wasn't lost in the crowd, because he excelled at sports.
He played football, baseball, basketball, and soccer. Summers meant tennis camp. It was all he could think about.
"He was always an adorable child," recalls his mother, Grace Kennan Warnecke, now 80 and living on the Upper West Side of Manhattan. He took a bus to Marin Country Day School, where they didn't have grades, just smiley faces or frowns. "McClatchy was always all smiles," she says.
That's why she was mortified when the family moved to Washington, D.C., and McClatchy's new school called to say that her son couldn't read. Humiliated, she had him tested and discovered he had severe dyslexia. They decided he should attend Trinity-Pawling, in New York's Hudson Valley, which had programs for students with learning disabilities. He had grown up surrounded by people who had succeeded by using words, but McClatchy was searching for another way.
"My dad gave me some pretty good advice: 'You shouldn't work for our company,' " he says. "You definitely learn a lot more about yourself when you get out of your family's shadow."
After graduating from UC Santa Barbara, McClatchy decided to focus on the business side of newspapers and was hired for an unglamorous job at the Miami Herald, taking real estate ads by telephone. At 26, he was slowly working his way up the corporate ladder in advertising and marketing when his father, C.K. McClatchy, died. For better or worse, McClatchy found himself drawn back in the family business, working for a family-owned paper in northern California. It was one of the low points of his life. Although he'd started to realize and accept that he was gay, he found himself alone and frustrated. That's when he read an article about Fred Anderson, who had bought the Modesto A's minor league baseball franchise in 1994.
Undeterred by Anderson's seniority, McClatchy called him up. "I told him, 'I think you're making some mistakes with your strategy with your minor league team,' " McClatchy says. "He told me I should come in and explain all the mistakes [he was] making in his business." Figuring he had nothing to lose, McClatchy went to see Anderson, then in his 60s. Three months later, McClatchy was president of the team.