The Ghost With The Blue, Blue Eyes
5.29.2013
By Andrew Belonsky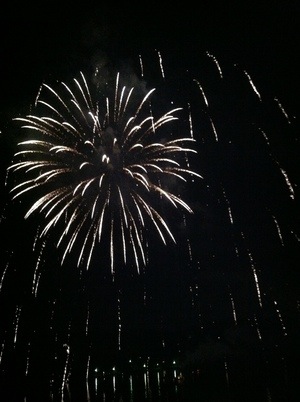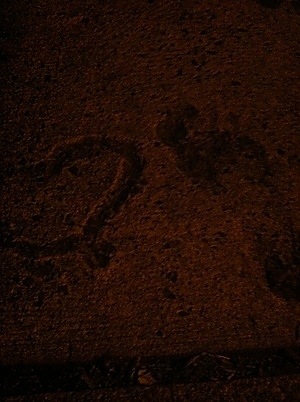 (Fireworks above the Delaware River and an unknown person's footprint next to a concrete heart.)
A small borough of less than 3,000 people, New Hope sits about 50 miles north of Philadelphia and only a few steps west from Lambertville, New Jersey, just across over the Delaware River. First founded in 1790 for access to passing ferries, New Hope has two main streets, Main Street and Bridge Street. The latter is named for the bridge that connects it to Lambertville. Crowds gather there every summer Friday for a fireworks show put on by the two towns. It's a crowd pleaser for all except the ducks, who hurry to either states' shores once the booms begin.
The weekend of my first visit, Main Street was being prepped for the town's gay pride, an event Brooks started 10 years ago. "It's a fair for everybody, but run by gays," he said. New Hope Pride prides itself on cutting out "the exclusive-type environment seen at other prides," where straight people may feel less comfortable. The street is shut down, but that's just a precaution. No traffic exists because the entire town turned out to see drag queens sing, marching bands march, gay cops strut, and a local church preach its inclusive gospel.
A middle-aged caucasian gay couple sat on the curb looking for Waldo with their tweenage, African-American children. A teenage lesbian couple, one with a green mohawk and a "Legalize Gay" T-shirt, held hands in front of a diner boasting both the Tea Party's "Don't Tread on Me" flag and rainbow gay pride lights. A straight couple—looking very much the picture of Connecticut perfection—rode their bikes into town to enjoy the view. I felt as if I've stepped into the quintessential American small town.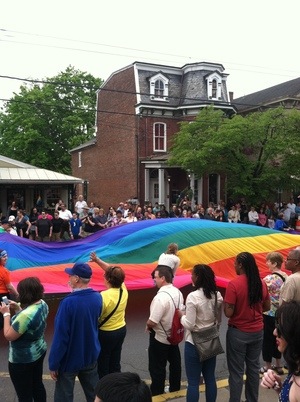 In addition to a diverse demographic and two well-paved roads, New Hope's known for a few other things. First, it has the Bucks County Playhouse, a former mill first turned into a theater in 1939. It was this playhouse that helped lay the foundation for the city's gay scene in the 1950s. It was also where Neil Simon debuted Barefoot in the Park, starring Robert Redford, in 1963. New Hope also has the dubious fame of being the town to which Vice President Aaron Burr fled after killing Alexander Hamilton in a 1804 duel. The bed & breakfast where I stayed, a Victorian-era home on Bridge Street, is named after Burr.
Like so many colonial-era towns, past violence can be found under every cobblestone in New Hope, a fact of historical American life that lends itself to stories of restless spirits. The leader of our ghost tour, told us of revolutionary soldiers who, after being burned to death in a blast, were stored in the basement of the Logan Inn, which is still an operational hotel and restaurant. Those soldiers' spirits now allegedly snatch lighters and matches from wait staff unlucky enough to be sent downstairs. Another ghost in an upstairs room is reportedly that of a man who hanged himself. Slaughtered pigs reportedly squeal in the night elsewhere in town, and legend has it that spirits stalk the footpaths along the perfectly spooky canals that snake around town.
The most popular story, however, may be one that involves an unidentified, teenaged apparition with blond hair, startling blue eyes, brown bell-bottoms, and a knapsack. Numerous drivers over the years have said they've seen him and his blue eyes over and over again, around various curves on the same wooded stretch of Bucks County Highway. He's always alone. Even if you don't believe in ghosts, imagine what it would be like it that boy had a name, if that was someone's legacy, if that was your legacy, to be known as an urban legend, to be remembered as a hitchhiker forever flagging a ride.