14 Truly Awesome Things To Do Out In Columbus
5.13.2013
By Out.com Editors
Tell someone you're going to Columbus, Ohio, and you'll most likely get one of two reactions: dumbfounded wonder or patronizing interest. "Oh, okay," they may say, all the while silently wondering if you're "going through it." You're not, but if you were, Columbus would be a good place to do so: the rural countryside's wonderful for centering oneself among natural splendor, while the city itself is perfect for breaking the nightlife mould. Here, some things to do next time you find yourself near Ohio's capital city.
COUNTRY LIVING IT UP: From natural rock formations like Rock House to birch and poplar-filled forests to placid waterways perfect for a lazy canoe ride, Hocking Hills, a state park 60 miles southeast of Columbus, is rural at its best but with varying shades of rustic. That is, there are dozens of inns, beds and breakfasts and lodges in the area that can accomodate big city needs, but the one we recommend, the only Select Registry property site in the hood, is Inn at Cedar Falls.
Whether you decide to stay in stand-alone cottage in the woods, a simple guest room or in a more expansive cabin, Cedar Falls, founded on the site of an 1840s log cabin and family operated since 1987, makes sure you get the best of both worlds: unadulterated fun romping around the woods with the amenities of a world class resort, including gourmet cooking classes and a spa tucked away in the woods, just beyond the honey bee colony.
At night, once you've wrapped up an organic, farm-to-table dinner, we recommend you star gaze from a fire pit next to a hilltop garden.
ALL UP IN ASH CAVE: Alright, Ash Cave is not technically a true cave. Official caves require a complete lack of ambient light. This overhang, shaped by a millennia-worth of trickles and spouts through multi-hued sandstone, is a "recess cave." It was previously used for Wyandot Indian rituals that clearly involved burning: explorers in 1877 found massive piles of ashes that included animal bones, pottery, arrows and corn cobs, all of which indicate a religious purpose.
Later, after Europeans moved into town, the overhang's acoustics, a "whispering effect" that lets the softest remark sound like a shout, were used for Christian services. Though it's now part of a state park, Ash Cave, tucked into the woods, below the tree tops and under a small waterfall, remains a popular place for other ceremonies, including weddings.
GETTING HIGH ON TREES: Did you know that the beech tree's wood is used for both the interior of Rolls Royces and to help flavor Budweiser beer? They're also excellent for going from high to low in the Hocking Hills forest, where Hocking Hills Canopy Tours operates a zip-line adventure through beech, sycamore, poplar and other trees along the Hockhocking River. There's no better way to get up and close with ancient canopies, and the adrenaline rush can't be beat.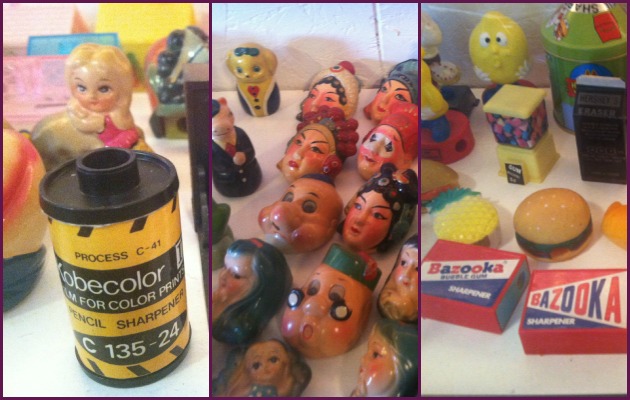 KEEPING IT SHARP: Paul A. Johnson's wife had simply had enough! His collection of pencil sharpeners, thousands collected since 1988, were overtaking their Ohio house and it was too much for her to bear. The retired minister was faced a decision: toss the race cars, dinosaurs, film canisters, and famous landmarks that doubled as weapons again dullness, or build a shed in their honor and call it a museum. He chose the latter.
Following his 2010 death, the Pencil Sharpener Museum, the only place of its kind, was relocated from Johnson's backyard to the Hocking Hills Regional Welcome Center in Logan, Ohio, right at the corner of Route 664 and Logan Lake Road. But is it art? Without a doubt; and even if you disagree, there's no arguing with the fact that this is the kitschiest place in all of central Ohio.