Mary Lambert Teams Up with Nonprofit To Spark Dialogue, Find Support
1.20.2014
By Sunnivie Brydum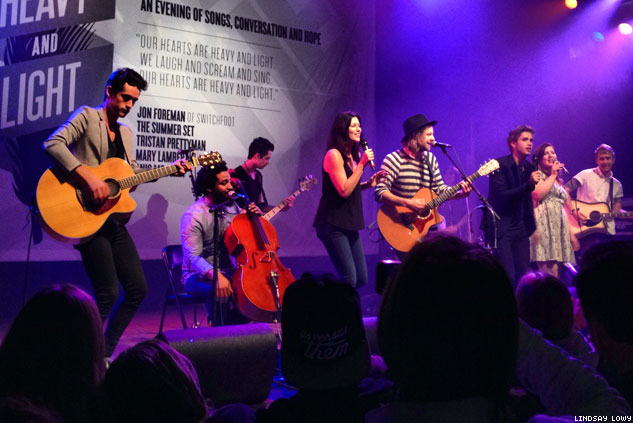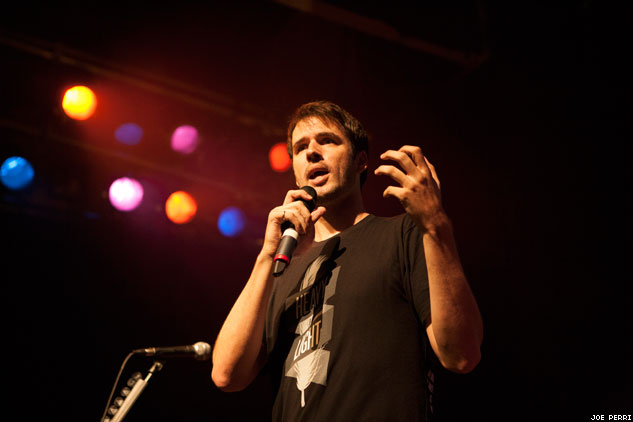 To Write Love on Her Arms began in 2006 with a story penned by founder Jamie Tworkowski. The story spoke of Renee, a troubled 19-year-old who Tworkowski and his friends and family helped care for in the days before she entered treatment for depression and substance abuse. In that story, Tworkowski wrote about prayer and his church community that helped to support Renee in her days before treatment. He wrote about God's love.
And while Tworkowski identifies as a Christian — indeed, many of the performers involved with Heavy and Light do — the event and organization have avoided being "pigeon-holed" as a religiously affiliated group, he explains.
Tworkowski says:
We don't call ourselves a Christian organization, but there's some, I guess what you would call Christian language, that appears in the story that it grew out of. And one of the things I'm really thankful for is that we haven't been pigeon-holed. So often, if there's any trace of religion or Christianity, it gets reduced to that. And there's a lot of assumptions that go with that. And I love that we've been able to be allowed to grow to be known as something that is for [supporting people, not religions.]

… I think that, hopefully, the proof's in the pudding. So much of what we do — probably the biggest thing we do — is communicate. And we literally, every day, are trying to be a source of encouragement, are trying to move people. Trying to encourage people to know it's OK to be honest, to know it's OK to ask for help. That's what tonight is about. And I think if all different kinds of people are connecting with that, or seeing or feeling that, then hopefully that has allowed it… Hopefully, when we point to the work that other folks are doing, beneath that is the idea that, hey, they must care about us…

Every day we're getting reminded of so many people who struggle with the stuff that we talk about. And obviously you hear about the hard stuff, but you also hear about people finding hope, and maybe even getting help, and people staying alive. And so I think that's the stuff that really keeps [TWLOHA] going.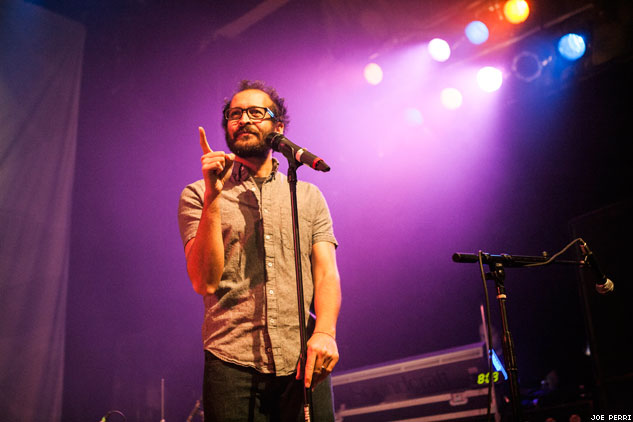 Anis Mojgani:
I think what TWLOHA speaks to is something that everybody experiences at some point in their life. All of us, I would say, do battle with ourselves. Some more than others, some less than others. But everybody goes through a period where they do battle with themselves. And particularly within the LGBT community, I know that there is battling going on. And one of the wonderful things that I love about TWLOHA, is that there's not like a larger purpose than simply allowing that conversation to happen; that this is something that more than just an individual goes through, that many people experience. And if you have to go through this, know that, because it's better to know that everybody is experiencing this and that this isn't something that you have to go through by yourself.
His message to the LGBT community:
Let's keep it simple: You are loved.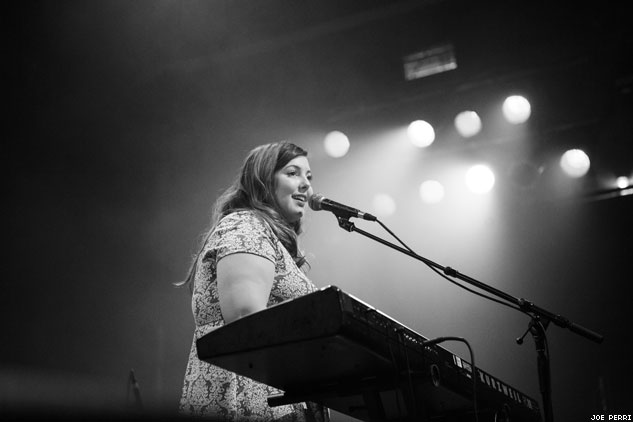 Mary Lambert
On LGBT people who struggle with depression, suicide, and self-injury:
I think if there's a dialogue that can happen, if there's any solution to the madness that occurs in that mental state of coming out, of finding your identity, of feeling anything against your own person, fighting those [resources]... If music can do that, that's incredible. And if I can create something or perform something that gives someone another week on their life, or putting off an attempt at suicide, then, done. I'm going to keep fucking doing that.
On performing at Heavy and Light:
I didn't really know what spoken-word was until I was 18 or 19. I'm clinically bipolar, so I was on a really, really terrible manic swing, so I was three days of just a total binge. I hadn't slept- didn't sleep for 72 hours, I did a whole shit ton of cocaine, and I was really, really screwed up. And I was going through YouTube videos, and I saw Anis Mojgani performing "Shake the Dust." And he did three of his poems in a row, and something happened to me. And a little bit after that I started seeking treatment for my mental illness. And that's when I started writing poems.

And so this night is huge for me. We have met since then, but we've never shared a bill before, so this is like, on top of being with the organization, and having Anis be here, and just the timing of everything is pretty eerie.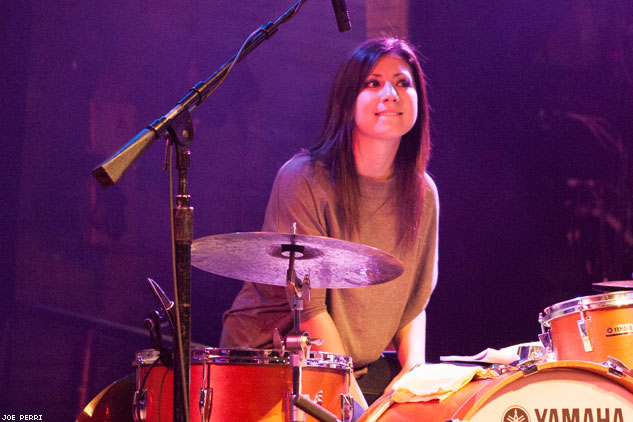 The Summer Set
Jess Bowen, drummer and out lesbian:
I think a lot of the LGBT community, even especially younger kids, or youth… they have to struggle coming out to their friends or family. [And] that's something that they're going through, and that can unfortunately lead to depression if they don't feel like they're in a place that they can do so. And sometimes, unfortunately, people even think that taking their lives is the only option they have, and TWLOHA is this great organization that's just kind of here to spread hope and help for people with these issues. And it's just unfortunate that there's a lot of people that think their only option is to take their own lives instead of to be true to themselves or to vocalize.

Coming from me as the one out musician in our band, just know that there is hope, and if you're feeling any sort of depression, or feeling like you need to mask your pain with inflicting pain upon yourself, don't think that that's the only option. You can talk to people, there are people there for you, and it does get better. And coming from me, who just came out, last year — just be true to yourself. That's the best advice I could give. It's hard. I know it's not the same for everyone, and maybe they're not in a situation where they can do that, but it does get better.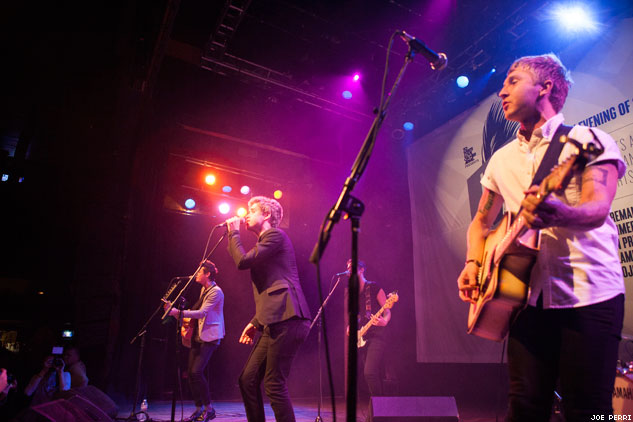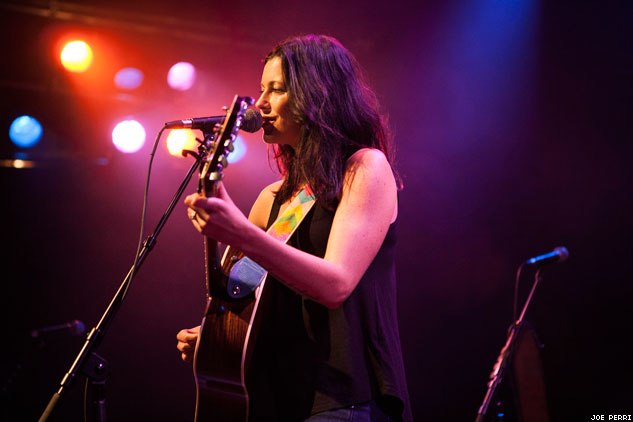 Tristan Prettyman:
I feel like TWLOHA is about being OK with who you are. It's about feeling comfortable about being who you are. It's about being OK with not being OK. Whether you're coming out, or if you're having an addiction problem, it's all the same — it's all the fear about 'what are people around me going to think because I'm not perfect," for whatever perfect means.

Something that [Tworkowski] said to me that has always stuck with me, and I think really kind of reeled me into this. He said "everybody has a story, and everyone deserves to tell that story, no matter how long that story, no matter how unimportant it might be to somebody else. Every one of us has something that we need to share, something that's important to us, and we deserve to be surrounded by people who care about that story, and we deserve to have people in our life who want to keep up with that story."

And I though to myself, that's also what music is about. Walking on stage every night and singing every night…So I just feel like the two go together so well - the mission of TWLOHA and what all of us musicians do overtime we get on stage. It's all about connecting, and sharing, and learning from one another.

And I really love that it's not trying to sell anything. It's just trying to get a conversation started. It's trying to bridge the gap between bunch of different things, and I love that.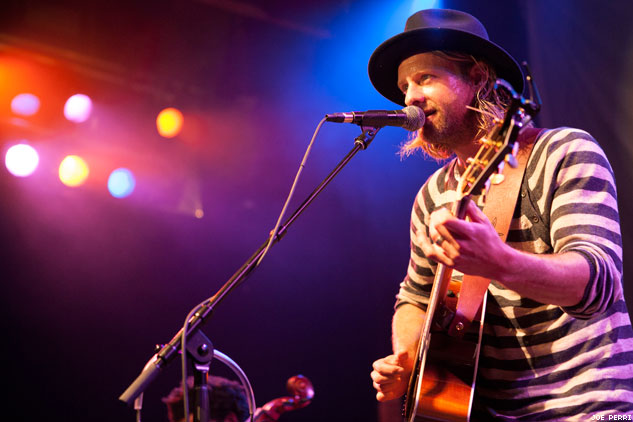 Jon Foreman of Switchfoot
On Heavy and Light:
I feel like a forum for people to say that life is difficult, and yet worth pursuing, is really needed. Because I think there's a lot of places where you can go to find "winners" doing well. You see a lot of that on TV, and people that are winning. And I think a lot of people, like myself, I don't identify with the winners. And so to have an organization that says "you might not be winning, but you still matter," and to have that growing up to a younger demographic that has a lot of things against them [is important and meaningful].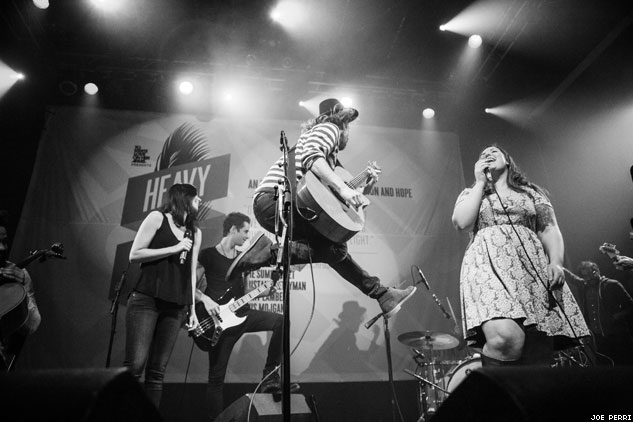 On performing Bill Withers' song "Lean on Me" as the night's encore with all artists onstage:
[Withers] used to have a stutter. And in order to conquer that, he had to forgive the people that were judging him before they judged him. And that allowed him the freedom to speak clearly, because he was no longer bound by their judgment of himself. And so the forgiveness that he gave to them before they actually did anything to him, actually freed him to be himself in a way that he couldn't [before.]

So I think there's something to that, the idea of the liberation of forgiving someone before they judge, in order to actually be liberated yourself.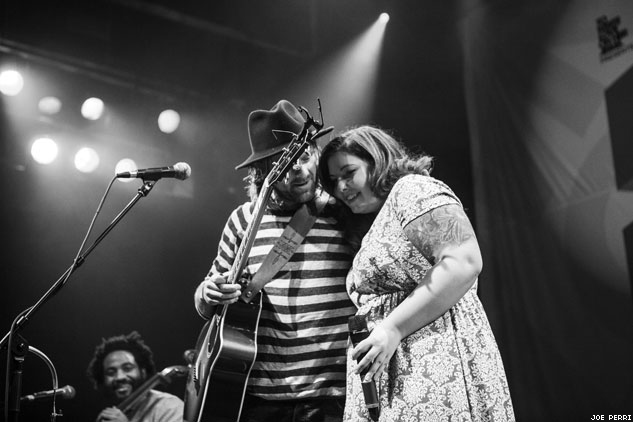 On faith and the LGBT community:
I feel like the Christian tradition, it means a lot of things to different people. And when you say I'm a christian, I'm a believer, i'm this or that, a lot of times it can mean, I voted for George Bush… Where for me, I tend to identify a little bit more with the Christ that I read about that says, he came for the captives, the broken, the homeless, the hungry, the hurting, the poor, the underprivileged, the outcasts, and the folks that feel like they're sick and need a doctor. And so I can identify with that because I can identify with someone who's broken more than with someone who's got everything figured out. Because I don't have everything figured out…

I think that when it comes to judgment, Christ is really clear saying judge not lest ye be judged. Like I said, I'm on the journey myself. I don't pretend to have some sort of theological degree or anything like that, but I feel like that's strong enough for me to say, you know what, my job on this planet is not to judge, but to love. And I feel like Christ, he hung out with the tax collectors, the prostitutes of his time, and the outcasts — the people that the temple would refuse. And I wonder if people that the temple would refuse of his time, that there might be a correlation with who would the church refuse at this time. Those would probably be the people that Christ would be hanging out with - loving, having dinner with them, talking, that excites me, to think that that's the kind of God that I serve…

I've got a song in a side project of mine, it's called "Fiction Family," and it's a song that says, "Put your God badge down and love someone." I think that sometimes when people come to a form of faith, they feel that it's their duty to put a "God badge" on, and then begin to be deputized, playing God on the planet. And I think that's a really dangerous thing to do. I feel like our role here on the planet, as humans, is to love. And to be representations of the love that we've received, the grace, the compassion that we've received. And I would love to see the Church rise to that calling.