The Top 50 Tracks of 2013
12.23.2013
By Jason Lamphier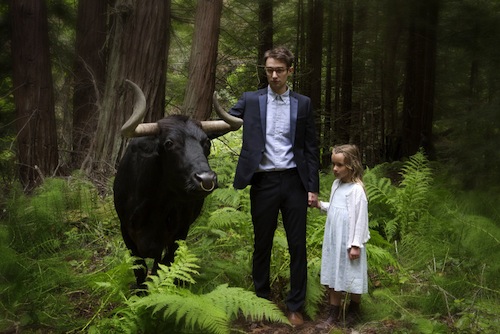 7. Majical Cloudz – "Bugs Don't Buzz"

How do Montreal-based singer-songwriter Devon Welsh and his producer, Matthew Otto, manage to wring such palpable emotion from such a spare song—one consisting only of a few piano keys, some humming ambient fuzz, and Welsh's resounding baritone? The answer lies in their ability to shut out all the din of the world and capture real, raw intimacy that's amplified by imagery you can almost touch. There's the "slimy wet darkness"; the roaches that may or may not be dying that serve as a metaphor for the narrator and his lover; the "edge of existence" that the whole track seems to cling to. "If life could be forever one instant/ Would it be the moment you met me?" Welsh sings. Even forever may not be long enough to appreciate moments like this.
6. London Grammar – "Wasting My Young Years"

The key to London Grammar's blisteringly melancholic "Wasting My Young Years" isn't what the British trio's gifted vocalist, Hannah Reid, does—it's what she doesn't do. Each verse begins with her wandering, downcast heroine walking the streets, reflecting on her charred past, terrified of the blackness ahead that is her future. Then, just after she laments her inability to stop "chasing old ideas," the track begins to gallop forward, racing toward its refrain and threatening to tear away from her control. You expect Reid to finally just unleash some diva wallop, some helpless plea or declaration of empowerment —or for the whole thing to erupt into a robust, chaotic finale. Instead, the song ditches a bridge or third verse and dissolves into a simple piano melody, and the singer resigns herself to her present state, feebly delivering the closing lines "I don't know what you want/ Don't leave me hanging on." Ironic, given that that's exactly what Reid does to us.
For the full 50, check out the Spotify List
5. San Fermin – "Sonsick"

This summer's sunniest song was also its most overlooked. Perhaps that's because "Sonsick," written by composer and Yale grad Ellis Ludwig-Leone, really sounded like nothing else in 2013. OK, so it was a little Dirty Projectors, a little Sufjan Stevens, a dash of Janelle Monae. But with the layered vocal acrobatics of singers Jess Wolfe and Holly Laessig—belting about their attempt to turn a resistant lover into a lifelong partner—and the track's big, brassy fanfare soaring into the stratosphere, Ludwig-Leone's optimistic confessional moves beyond the label of "grand-gesture indie" to trigger some sort of sonic umami. The emotion of "Sonsick" shoots out like a cannon, then leaves you feeling as giddy as a kid at the circus.