The Making of Macklemore
5.8.2013
By Stacy Lambe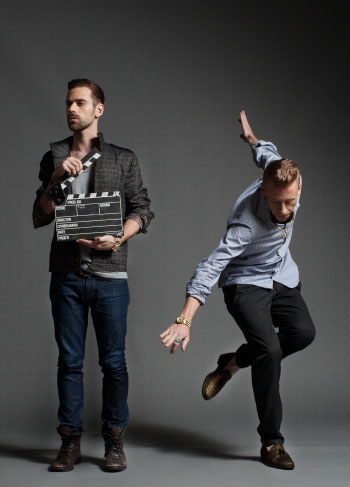 Still, not everyone is buying the message of "Same Love." At Racialicious, a blog about race and pop culture, Hel Gebreamlak, a Seattle-based black, self-described transmasculine writer and educator, pushes back on the song. "The single supports the idea, or at least implies that people of color -- particularly black folks who created hip-hop -- are more homophobic than white people and that there are no queer people who feel supported in these communities," he writes. "This is very dismissive of queer people of color who consider communities of color their primary communities, who have experienced racism by queer communities, and for queer hip-hop artists of color who have found a home in the undervalued sub-genre of homo hop."
For Jamieson Cox, a white, gay, Toronto-based music contributor to BuzzFeed, Macklemore's stance is problematic. "A lot of people would rather see queer rappers given equal media treatment instead of all the focus on yet another straight white dude," he says. "People's reactions to Macklemore are inevitably defined by their personal experience, race, and sexual orientation." That said, he, for one, doesn't doubt Macklemore and Lewis's intentions: "It would take an incredibly cynical person to think that Macklemore is attempting to ride a wave of increasing acceptance of homosexuality to commercial success, and I'm not that guy."
To his credit, as Macklemore has gained commercial success, largely thanks to "Thrift Shop," he hasn't backed away from gay rights. If anything, since the release of "Same Love," he's embraced his position as a very visible straight ally.
He recently filmed a PSA for "You Can Play," a campaign aimed at creating an environment of equality and respect for all athletes, and in April he expanded on his gay marriage anthem with a commercial for Nordstrom celebrating diverse weddings. The festive, glittery ad featured another song from Macklemore and Lewis, "And We Danced," as the soundtrack to the ultimate wedding party where gay and lesbian newlyweds celebrate alongside straight couples.
And there's cause for celebration. Following last year's presidential election, thousands more gay and lesbian couples can legally get married across the United States, including in Washington, where Macklemore's uncle Johnny and his longtime partner still reside.
Though he credits the couple for being his model of a committed and loving relationship, the rapper admits he was initially very reluctant to play the track for his uncle. "These were some of the hardest words to write on a piece of paper, knowing that people were going to hear this," Macklemore says, adding that playing the song for his uncle and his partner, let alone to thousands of fans, meant exposing himself.
However, after learning that his father had already shared the song with the couple, Macklemore was so moved that he decided to change the artwork for the single. The original concept, a collage of two same-sex couples and rainbow clip art, wasn't gelling with him—"It didn't represent what the song is," he says. Instead, the final artwork for "Same Love" shows his two uncles posing in a stark, classic family portrait: One sits resolutely in a chair, while the other stands behind him, his hand on his lover's shoulder. The photo is simple but elegant and powerful.
And it has also sparked a certain, more personal conversation about gay marriage. "That's the thing," Macklemore says, chuckling. "After Referendum 74 passed in Washington and we put out the single, Johnny, who is a sarcastic bastard, was like, 'Oh, great, I guess I have to go get married now.' "