Ziggy Played Guitar
3.12.2013
By Glenn O'Brien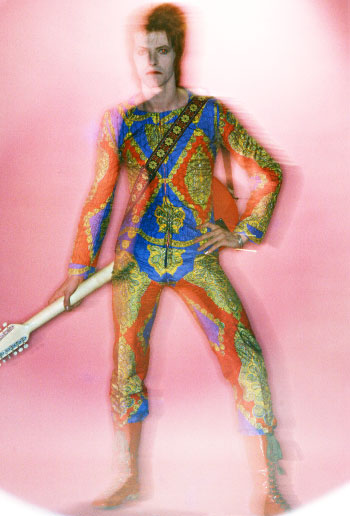 Photograph by Brian Duffy
In 1971, David Bowie was having his Greta Garbo moment. On the cover of Hunky Dory, he looked a bit like her and sang a song called "Oh! You Pretty Things." That was his vibe when he came to visit Andy Warhol at the Factory, on September 14, 1971. He was with his manager, Tony DeFries. They were in town to sign with a new record company, RCA, and Bowie wanted to pay homage to Warhol. Andy had been a hit in London in '71 with his play, Pork, and Bowie had recorded a single, "Andy Warhol," and he wanted to sing the song to Andy in person.
I don't know if they had an appointment, but I remember someone saying, "There's somebody here named David Bowie to see Andy." I had been reading about Bowie and had heard The Man Who Sold the World. It had Bowie with long curly locks reclining odalisque-style in a vintage dress on the cover, and it only reached 105 on the Billboard charts. The Factory was the world's HQ for drag queens at the time, and I thought that Bowie was jumping on the bandwagon. But something was in the air; hippies were wearing feather boas, and, unbeknownst to us, the New York Dolls were rehearsing somewhere. I said that Bowie was pretty famous and that we should, of course, let him in.
David had long hair and was wearing huge Oxford bags-style trousers, a floppy hat, and Mary Janes with one red sock and one blue -- he was clearly aiming for a sort of eccentric androgynous look. I was immediately struck by his eyes, with their electric pupils. I was also struck by David's wife, Angie, who looked more boyish than David and had quite a presence, and by the contrast of Tony DeFries, who looked like a Sicilian Elvis impersonator. Not very glam.
Bowie had studied with the famed mime Lindsay Kemp and had toured with Kemp's company, so he certainly had the best mime credentials, but none of us knew quite what to make of the mime he performed for Andy. Then he sang "Andy Warhol." I don't think Andy could tell whether it was an homage or a send-up, with its rather ambiguous lyrics, but everyone was very nice and polite. I've recently seen the silent black-and-white video [of the visit]. The Factory's video technique was even worse than its film technique, and I'm curious about the conversation I can be seen having with Bowie, my hair almost as long as his. I recall David asking me where he could get a copy of the Index Book and I recall that I had no idea what that was.
I don't know what Andy thought of that day -- probably not much, but he had that sense of judging a person's self-esteem, and I think Bowie passed on that count. The next time I saw him was in London. RCA Records had gotten behind him big time, and, in 1972, they shipped a bunch of editors and writers over to see his new incarnation, Ziggy Stardust. It was a total transformation, with Bowie gone futurist with radical red hair, makeup, and Japanese designer clothes. It was fantastic. He was a new dandy prototype, a Beau Brummell for the publicity millennium. I saw the band play a great concert in a medium-sized hall in Aylesbury, and I hung out with David and his very friendly wife, Angie. We went dancing at Yours and Mine, a hip disco under a Mexican restaurant and, yeah, I danced with David Bowie. Fabulous!