Josh Hutcherson, Straight Talker
10.9.2013
By Shana Naomi Krochmal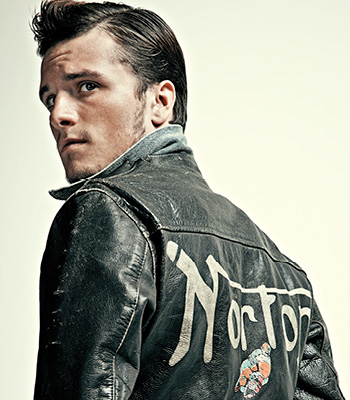 With such aw-shucks modesty, it's easy to forget that Hutcherson is as young as he is. Like Harry Potter's Daniel Radcliffe, he'll emerge on the flip side of the franchise with a massive amount of on-set experience and no small ambitions. His five-year goal, loosely defined, is to produce and direct, both of which he got a taste of with the indie Paradise Lost, set for release in 2014. He executive produced, collaborating closely with first-time director Andrea Di Stefano on everything from casting to blocking shots. "It wasn't just a vanity credit," he says. "I really got to influence [the film], which, fuck, made me so hungry to do more like that." He also co-stars with Benicio Del Toro, playing a young man who learns his girlfriend's dad is the notorious drug lord Pablo Escobar.
Del Toro and Hutcherson had already worked together, in part of the anthology 7 Days in Havana, directed by Del Toro. In the film, Hutcherson played an American actor who is surprised—but not exactly deterred—when he learns the hot girl he picked up at a raucous Havana bar is actually male. "I think anybody would feel a little uncomfortable in that situation, the way the world is right now," he says. "But what is she supposed to do?"
At a midsummer charity basketball game held just outside Los Angeles's Staples Center, hundreds of fans scream every time Hutcherson has possession of the ball. He's a dogged player despite his size—save for maybe on an IMAX screen, he'll never be mistaken for tall—shouldering his way through a motley crew of other actors and athletes for a layup.
Inside Staples, One Direction plays the third of their sold-out, four-night run. The adjacent plaza at the heart of the sprawling L.A. Live sports and entertainment complex is overrun by tweens and teenagers and their agreeably put-upon parents. It's the perfect captive audience for Hutcherson. Before the game and again at halftime, he steps up to center court with a microphone to talk about Straight But Not Narrow, which for the second year is the beneficiary of this fundraiser.
The group acknowledges both NBA player Jason Collins and a young transgender college student, Zachary Kerr, for their work to raise awareness. "Our main goal is to just show people that you can be yourself," Hutcherson tells the crowd, "which is something that some of us take for granted, I think."
He presents Kerr with a team jersey, and goads him—nicely—into attempting a free throw. They seem like old friends though they've only met the day before. Kerr, 19, travels to schools across Massachusetts, talking about his gender transition. He was already a fan of Hutcherson's movies but is now most impressed by his activism. "I've never met anyone before who identified as a straight ally and had as much passion for this work as I did," Kerr tells me.
"As soon as I got any ounce of notoriety to bring attention to any kind of issue, it was just an obvious choice," Hutcherson says. "Look at any voting map, and even in a state that's completely red, if you look where a college is—young, educated people—it's blue, without fail. That's got to show that the next generation, and people who get an education, are less ignorant."
That pocket of blue in the middle of a sea of red is Hutcherson's sweet spot, just a bigger version of growing up in a progressive family in Kentucky. "My grandma had four boys," says his mother, Michelle. "Two of the four were gay." Steve and Jamie were barely older than Michelle, and because her parents were only 16 when she was born, "We kind of all grew up together."
She didn't really notice that no one else in Kentucky had gay uncles and their partners at family gatherings. "It never was anything different for me," she says. But in the early 1990s, both Steve and Jamie died of AIDS. "When my Uncle Steve passed away, a friend of his had everybody over after the service," she says. "I remember thinking, What a great group of guys. Why does anybody have a problem with this?"
Josh tells this story, too. "He died the day after my mom told him she was pregnant with me," he says. "She was really sad that I never got to meet them. I am, too—they sound amazing."
"It was an injustice that made zero sense," Michelle says. After Steve's death, she and Josh's dad started volunteering with local AIDS organizations. They stayed close to his partner's family—the kids all grew up as cousins—and told Josh and his younger brother, Connor, to love whoever they wanted and be happy about it. "I always thought that Steve and Josh would have been so close," she says. "Steve was very, very driven, very charismatic, very handsome. He always had to be right."
Hutcherson's ready to pay it forward. "I have this dream that one day, my kid's gonna come home from school and be like, 'Dad, there's this girl that I like, and there's this guy that I like, and I don't know which one I like more, and I don't know what to do.' And it'd just be a non-issue, like, 'Which one is a good person? Which one makes you laugh more?' "
He still thinks of himself a kid—he points out, "My job is make-believe"—and his massive fan base, thanks to The Hunger Games, has given him a huge platform. "I'd love to have somebody who disagrees with me come talk to me," he says, "because I'd like to change their mind. And I think I could."
He says, sincerely, "I'm ready for a fight." But this nice guy isn't coming out swinging as much as he's extending a friendly hand—to yank anyone who has yet to fully evolve across the finish line with him.
"Talking to kids in school and reaching out through social media we found to be really effective," he says. "That's where the bullying happens the most, where people are molded into who they become when they grow up. Kids are so mean to each other sometimes. You're figuring out who you are, and you're insecure about it. Especially if you don't have a great family life or you're being influenced by a religion too much, a way to feel better sometimes is to put somebody else down. Our goal is making kids more compassionate and more understanding that people are just people. It's really about being yourself."