To Die For
10.2.2013
By Yehudit Mam
Director Christian Vincent's fall comedy, Haute Cuisine, is based on the relationship between ex–French president François Mitterrand and his personal chef, Danièle Delpeuch (in theaters now). But how does its endless parade of sumptuous, Weight Watchers–annihilating plates stack up against those of other foodie films? A calorie count.
TOAST (2010)
A coming-of-age biopic based on the memoirs of English celebrity chef Nigel Slater, who survived growing up gay in the '60s and eating horrendously at home.
Most decadent Consumption: Roast goose; baked ham; Shepherd's pie
Caloric Conclusion: Approx. total calories: 7,216. A meat lover's special.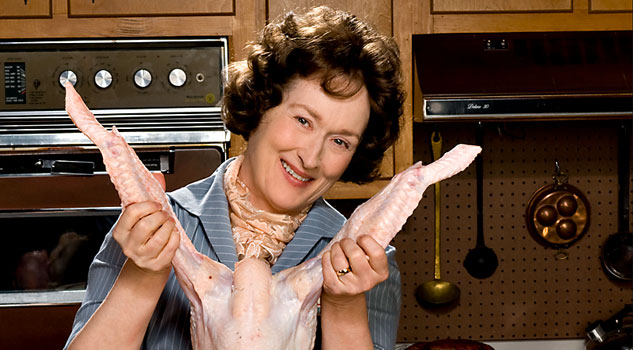 JULIE AND JULIA (2009)
Meryl Streep mightily channels Julia Child as Amy Adams attempts to cook every single dish in the icon's landmark book Mastering the Art of French Cooking.
Most Decadent Consumption: Lobster Thermidor; roast chicken; Canard en croute
Caloric Conclusion: Approx. total calories: 7,277. Le food porn.
FRIED GREEN TOMATOES (1991)
Despite its sanitized lesbian storyline, Mary Stuart Masterson and Mary-Louise Parker play the film's romantic subtext with everything they've got.
Most Decadent Consumption: Southern-fried chicken; Snickers bars; a barbecued baddie named Frank Bennett (gross)
Caloric Conclusion: Approx. total calories: 4,108. Too much corn, not enough noshing.