Starring: Joseph Gordon-Levitt
9.12.2013
By Aaron Hicklin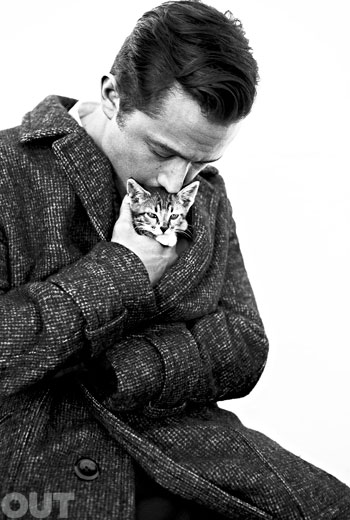 I'd read that Dan was a fire-spinner, and wondered if the two brothers had inherited a free-spirited, free-thinking outlook from their left-wing Jewish parents, Jane Gordon and Dennis Levitt. They met while working at KPFK, a donor-funded radio station in California liberal enough to have received a copy of the Patty Hearst tapes from the Symbionese Liberation Army in 1974. Gordon ran for Congress for California in 1970 on the Peace and Freedom ticket, and Levitt dallied with anarchy in his youth ("My dad never blew anything up, but he probably had friends who did," Gordon-Levitt once told a reporter from The New York Times). Gordon-Levitt's grandfather, Michael Gordon, had been a successful Hollywood director until he was blacklisted during the McCarthy trials in 1951, a calumny that must have shaped the family's attitudes to mainstream media and the entertainment industry.
"I think they both instilled into me and my brother the feeling that we're part of the world, and that that's important — that we're all connected and everyone's well-being is tied to each other," says Gordon-Levitt. "They're hippies, but they were not so much about being flower children as getting something done, trying to stop this war, or changing civil rights or the feminist movement — and they still are that way."
Today, hitRECord is a full-time operation that Gordon-Levitt describes as a direct expression of his brother's personal transformation from an "introverted and sort of shy dude and a computer programmer by trade… into this extremely extroverted, swashbuckling superhero and artist." Recalling his brother's favorite book, Dr. Seuss's Green Eggs and Ham, his elastic features break into a smile. "You know, 'Try it!' " he says, paraphrasing the book's imperative. "That was what Dan was all about. We tend to pigeonhole each other and pigeonhole ourselves and believe that 'Oh, I'm not that kind of person.' When Dan first saw people fire-spinning he didn't think he could do it, but eventually he tried it, and it had such a huge impact on him."
Easy as it is to forget in the light of the career he has built for himself, Gordon-Levitt went through his own transformation after 3rd Rock, taking time out to study French at Columbia University before landing a role in Gregg Araki's Mysterious Skin, the film that first broadcast the actor's post–3rd Rock intentions. As Neil McCormick, a young gay hustler in denial about the sexual abuse he was subjected to as a child, he was bewitching to watch, not least for the way he balanced vulnerability and imperviousness. "At that point, I so badly wanted to act in a really good movie, in a really creative, challenging role that I could sink my teeth into," says Gordon-Levitt. "I auditioned for lots of little movies and no one wanted to put me in their creatively challenging roles because they didn't think I could do it. And I don't blame them. I was known for being on a farcical television show."
For those familiar with him as an alien in a boy's body, his metamorphosis into a hard-boiled, languid cock tease was a revelation that put him at the vanguard of a new generation of young actors willing to take risks in return for creative reward. Other movies soon followed, including the noir-ish cult fave Brick, the crime film The Lookout, Kimberly Peirce's Iraq drama Stop-Loss, and the romantic comedy (500) Days of Summer. "It was really interesting to watch Joe's transformation, literally blossoming into a movie star as people took notice after Mysterious Skin," says Araki, who remembers Gordon-Levitt flying to Kansas on his own dime to study the local accent. "He's a very serious and very thorough actor, and has always been that way."
It's clear that Gordon-Levitt does not do things by half measures. Jared Geller, a partner on hitRECord and Gordon-Levitt's companion the night he turned his camera on the paparazzi, recalls introducing him to the renowned Russian clown Slava Polunin, whose show, Slava's Snowshow, he had produced off-Broadway. Gordon-Levitt was so impressed that he ended up training as a clown under Polunin and his son, Vanya. "He trained for years," says Geller. "It's not like he was training on stage — he would get into the makeup and do the physical stuff offstage for years before Slava invited him to perform onstage with an audience. It was a really beautiful teacher-student relationship to watch."
That relationship flourishes on hitRECord, albeit with Gordon-Levitt in the mentor role. To listen to him talking about the possibilities of social media and the web is to marvel at his faith in the digital age's ability to bring us all closer. Has he read Sherry Turkle's Alone Together, in which the MIT professor dialed back some of her original enthusiasm for technology, arguing that it was shrinking attention spans and creating a false sense of intimacy? He has not. "I'll be honest, I rarely finish books anymore," he confesses. "Usually, I'll read a book until I've gotten what I need to get out of it, and I won't finish it. I like short fiction better."
But he makes a cogent and compelling argument for why the anonymity of the web can foster greater intimacy, not least because "you're purely connecting to the thing they created—you don't know what that person looks like, you don't know if they are male or female, you don't know how old they are." Last spring it was announced that hitRECord would reinvent the variety show format for the newly launched cable channel Pivot TV, drawing on content from the site, with Gordon-Levitt as compere. If it works, it will represent a whole new way of creating and sourcing television content.
Of course, whether hitRECord would be the draw it is without the celebrity cachet that Gordon-Levitt brings to the table is another matter. "When confronted with this terrible beast of celebrity, instead of running from it, he decided to see if he could actually tame it and get it to do his will," says Rian Johnson, who directed Gordon-Levitt in Brick, as well as the 2012 sci-fi thriller Looper. "He tried to harness it, as opposed to rejecting it, and to see him create this force of good out of hitRECord, using celebrity as its engine, I really find fascinating."
It's one irony that the unwilling cast of Pictures of Assholes might appreciate. Odd as it may seem, the wide arc of Gordon-Levitt's adult career, fueled by his restless quest for authenticity and connection, owes much to them.