James Marsden: The Deep End
8.13.2013
By Natasha Vargas-Cooper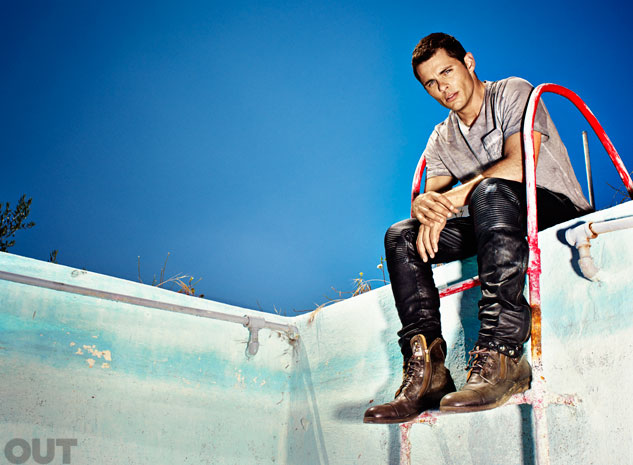 At the precipice of 40, Marsden's main career plan is "not to sell out." This means, as he puts it, "no shitty horror movies for big paychecks" and turning down long-term offers on not-to-be-named police procedural shows with silly dialogue and stilted acting. "I never set out to make a bad movie," he explains. "Some movies just turn out bad, and I want to scream, 'Why did you pick that take?!' Then there are some movies that I've been in that I was sure people would laugh at, that have become huge. I thought The Notebook was going to be a schmaltzy Movie of the Week–type thing, and here we are!" he says, laughing.
SLIDESHOW: MORE EXCLUSIVE IMAGES OF JAMES MARSDEN
There have been a couple of regrets where Marsden believes he was too picky, though he won't name them outright. "I'm a gentleman," he says delicately. One such misstep may have been passing up a supporting role in a certain rom-com about male strippers helmed by an Oscar-winning director. But to hell with all that, he says. "So far, I've been incredibly fortunate in the roles I've been offered. Sometimes I worry that I'll stop getting offered these 'break in case of emergency' sell-out parts." That time has not come.
Marsden says he's been lucky from the jump. Upon dropping out of college and leaving his home state of Oklahoma to pursue acting in Los Angeles, he was offered a three-year contract on a soap opera after just four weeks in California. "My agent said that if this was the type of thing I was getting offered now, we should aim higher and go for prime time and movies." To the shock of his family back home, he turned down the soap. "I started getting picky about parts, and that pickiness led to my first role on… The Nanny, with Fran Drescher!"
That's skipping ahead, though. Marsden's first big break came when he won a teen news broadcasting competition in Putnam, Okla., at 16. He and a female classmate were chosen to co-anchor news segments about education and human-interest stories for the local morning news broadcast. He and his pubescent co-host would drive in the 4 a.m. darkness each day to pre-record their on-air segments. "I was huge with 60-year-old ladies, and did chili cook-off contests," he recalls.
Around this time, Marsden and his family took a vacation to Hawaii, where he met two high-powered child actors: Kirk and Candace Cameron. "We became friends and I was like, 'I'm in! I have connections!' " Marsden recalls, pumping his fists in mock victory. Later, he would visit the pair in Los Angeles and attend tapings of Growing Pains and Full House.
"I was the cock of the walk in my drama class, and now I had these two famous friends — I thought I was destined to be an actor," he says. "But I was so dumb when I got to college; I refused to take theater because I thought it would give me 'bad acting habits.' " Eventually Marsden told his father, a specialist in agriculture and food-borne diseases, that he wanted to leave school to move to Los Angeles.
"My father, who's not an artist, who's a very practical guy, made me an offer," he says. "He would support me for a year in L.A., and if I couldn't support myself with an acting career after that year, I would have to come back home and go back to school." Cue a deluge of spots on The Nanny, Saved by the Bell: The New Class, Party of Five, and Ally McBeal. He scored the lead role in MTV's 1998 cult hit Disturbing Behavior, then Scott Summers in 2000's X-Men.
"Like I said," Marsden smiles, "I'm lucky."
There've been some stormy patches for Marsden. His parents split up when he was 9; he lived with his mother and four siblings but remained very close to his father. In Los Angeles, he courted Lisa Linde, daughter of country singer–songwriter Dennis Linde, and with serenades and acoustic guitar riffs, the two were married in 2000. During his 11-year marriage to Linde, the couple tried to split their time between Nashville and L.A., a doomed arrangement. They pulled out of their Tennessee home mid-renovation, and Linde filed for divorce in 2011. The two share custody of their children.
For now, Marsden lives in a bizarro universe where he is recognizably famous but for such a diverse range of roles that people stopping him on the street are never quite sure where they've seen him. "They say, 'How do I know you?' So then I start profiling them. If you have a 7-year-old girl? Hop. A 19-year-old, college-student-age girl? The Notebook or 27 Dresses. Fanboy geek? X-Men."
A day before our interview, Marsden was at his local grocery store when he noticed the girl at the checkout surveying him. As he helped her bag his produce, she leaned in close and whispered, "You'll never believe who was just in here." Who? "Louis C.K." squealed the star-struck clerk, and sent Cyclops on his way.