Chris Pine: The Thinker
5.6.2013
By Shana Naomi Krochmal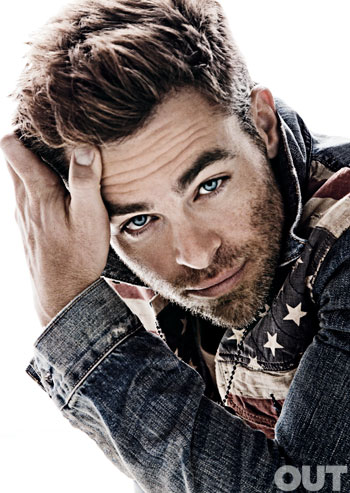 Or you could just call it a love story. "In the tradition of many great romances," Manohla Dargis wrote in The New York Times review of the 2009 film, "the two men take almost an instant dislike to each other."
"I always thought about it more like it was the dialectic of a human being," Pine says. "One couldn't be more logic and reason -- that's his genetic coding. And the other is more impulsive, following his passion, his fists. That was how it was a functional relationship. You have Spock as the cold reason, you had the passion of Jim Kirk, and then you had the ironic sarcasm of McCoy, which gave the whole thing levity. That dynamic was beautiful."
Quinto concurs. "I love that he and I got to inherit that dynamic, which obviously pre-exists us thanks to Leonard [Nimoy] and Bill Shatner," Quinto says. "It's endlessly fascinating to me, and that's why I think the characters and the story and the franchise are so enduring."
"That relationship is the core of what Kirk goes through," Pine says. "The arc and the trajectory of his journey is huge, almost Greek. But it's through his relationship with Spock that he learns the greatest lessons, about loving someone to the point of being able to do away with all rules and regulations and constraints in order to save, protect, and do justice to your friend."
Back when Pine was getting side-eyed for stepping into Shatner's shoes, Quinto was side-stepping another question: when the semi-open knowledge that he was gay would be officially confirmed. "It was something that I knew about Zach from the moment I met him," Pine says. "It was just who Zach was and that's that. I'm sensitive, and I don't ever want to make anyone feel uncomfortable. Knowing that for Zach it was more about a career thing and that he was not comfortable at the time coming out -- it was fine. It was something that we kind of tiptoed around and I just took it as a given, because that's what he wanted."
But when Quinto came out in 2011 in an interview with New York magazine, Pine was thrilled: "So happy for him, oh man. I thought it was rad. It was really, really cool. He did it on his own time, on his own schedule. And Jonathan [Groff], who he's dating, is such a lovely man. He's a good guy and a great actor, and they make a fantastic couple. I couldn't have been happier for Zach."
***
If Star Trek -- especially in the 1960s -- embodied a broadly liberal, diverse worldview, a kind of U.N.-slash–Peace Corps in space, then Tom Clancy's Jack Ryan novels (The Hunt for Red October, Clear and Present Danger, Patriot Games) are its Republican black ops cousin. Pine, who will portray the titular CIA analyst in Jack Ryan, a prequel out this Christmas, is in good company with other Ryan actors -- Harrison Ford, Alec Baldwin, and Ben Affleck -- whose politics don't quite line up with Clancy's conservative ideology. Of course he's way too well schooled to slam his next big franchise's creator, but he doesn't exactly deny the contradiction.
"The books were written at the end of the Cold War," he says diplomatically, "and it was seemingly much easier to paint the good guys and the bad guys."
So how will he make himself stand out?