Freakshow: World of Wonder is Hollywood's Nuttiest Production Company
2.18.2013
By Natasha Vargas-Cooper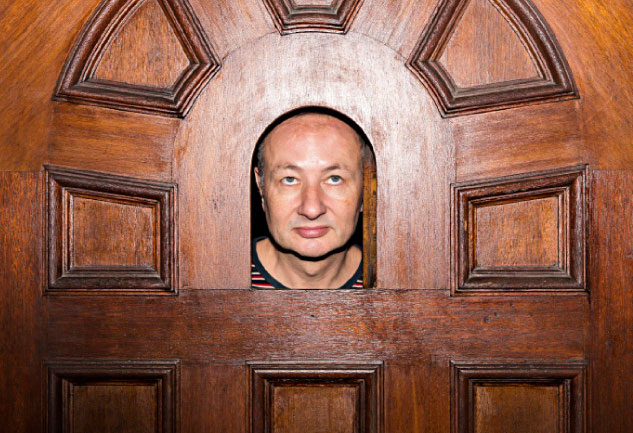 Bailey and Barbato first set eyes on RuPaul one sultry night in Atlanta in the mid-'80s. According to their book, the two were walking down the street when they saw a 6-foot-tall drag queen dressed in "shoulder pads, a jock strap, and a frightwig." RuPaul was wheatpasting flyers to telephone poles that announced RUPAUL IS EVERYTHING.
"We believed it," Barbato says. "We wanted to make good on that promise." (The entry on RuPaul in the WOW book reads, "It wasn't just the towering inferno of his frame; behind the mascara was a soul as gentle and wise as E.T.")
RuPaul asked the duo to manage his music career, and they shot the video for his track "Supermodel" on a shoestring budget. RuPaul became a sensation: he released a hit dance single in 1993, and landed a MAC cosmetics modeling contract and a gig hosting the Daytime Emmys. In 1996, Bailey and Barbato produced RuPaul's chat show, which aired on VH1 for two years. Then came the Bush Era and the space for performers like him got pushed back into the margins. Bailey and Barbato continued to pitch shows in different formats for RuPaul's comeback but nothing took, not until Tom Campbell, director of series programming for MTV, came to work for WOW.
"Tyra Banks has been stealing RuPaul's act for years!" Campbell, now head of development for WOW, says. "RuPaul just stole it back!"
Campbell's devotion to RuPaul was cemented in 1993, when he attended the march for gay rights in Washington, D.C. When hundreds of thousands of attendees pooled in the Washington Mall, there were no real leaders galvanizing the group. "There was Jesse Jackson, Cybill Shepherd, and some well-intentioned lesbians singing folk songs," Campbell recalls, "and everyone was like, 'Well, OK, that's nice.' Then they announced RuPaul would be speaking, and the crowd freaked out. We all got to our feet, and Ru got up there and gave this totally poised, funny, heartfelt speech." RuPaul concluded his remarks that day by pointing to the White House and declaring, "We're gonna paint this motha pink!"
The first thought that came into Campbell's head upon hearing the audience roar was, It takes a drag queen to bring us together.
The trio reconceived the proper vehicle for RuPaul and pitched Drag Race around town. "Drag is what television was made for," Barbato insists. Elements of what a reality drag show could look like were already percolating in pop culture with Project Runway, American Idol, and America's Next Top Model, and the team at WOW thought culture was ready to catch up.
"The reality show competition genre was sort of sputtering out," Campbell recalls. "So we wanted to make it fascinating without being inorganic." I ask Campbell what he means by "inorganic."
"Booze and pills," Campbell says flatly. "You know, if you allow people to do all the booze and pills they want off camera and film the results, you can have a reality show. We didn't want to do that sort of thing."
Anyone who's seen the show knows that its watchability stems from an artful blend of camp and pathos. Unlike America's Next Top Model, a competition reality show steeped in such uncritical self-regard that it can only be enjoyed ironically, Drag Race is filled with wry, subversive humor; it's a reality show that successfully makes fun of other reality shows. While Tyra says "Smile with your eyes" with a seriousness usually reserved for Talmudic scripture, RuPaul does a Cecil B. DeMille flourish and commands, "Don't fuck it up!" Drag Race also comes with some sincere emotional moments you wouldn't see on other reality shows. How could it not? The contestants are from a peripheral underclass -- they're gender renegades who have had to create new families plucked from karaoke shows and dive bars.
"We didn't want to pitch the show as bitchy gays; we wanted to do the art of drag," Campbell says. "The truth is, we pitched it everywhere. At that moment in time, Logo had not really been enthusiastic about being that gay." Sometimes, Campbell admits, he still feels Logo executives regard the show as too gay. (Logo abandoned nearly all of its gay-themed programming last spring. "Culturally, we're past the tipping point," Lisa Sherman, Executive Vice President of Programming, said of the shift. "For gays and lesbians, it's part of who they are, but they don't lead with it, because many are leading fully integrated, mainstream lives.")
The tension between "assimilated suburban gays," as Bailey and Barbato call them, and the "freaky, fishy," gays has been a constant issue with their work. They take heat from both sides.
Then there's the complaint that shows like Drag Race are sanitizing the gay scene, something James St. James thinks about.
"Sometimes I worry that we lose a part of our culture by trying to assimilate," he says on the day I visit the WOW offices. St. James edits and writes for the WOW Report, the production company's daily blog (his current obsessions: K-pop boy bands, the British drag artist Daniel Lismore, and Tumblr GIFs). "Don't get me wrong," he says, crossing his legs, "I'm not some Miss Havisham wasting away at her keyboard. I couldn't be happier being here." He leans back in his office chair. "But, you know, sometimes I feel like the old queen, like Buddy Cole in that Kids in the Hall sketch, trying to tell the younger generation about Stonewall."
Sharon Needles, the gothic-zombie drag queen and winner of Drag Race's season 4 crown, applauds the show for opening up the culture to queens, but counters, "The unfortunate side is that it whitewashes and PG-13's something that, in my opinion, should remain freaky in the underground."
Though Barbato and Bailey are functionally part of the entertainment industry, they're adamant about not sacrificing the freakiness of gay culture to the mainstream. In 1996, GLAAD created the Fairness Awards for people who were presumably fair in their portrayals of the LGBT community. Barbato and Bailey, who won it in 1998, contend in their book that the award had much more to do with who "could fill the most seats at the Four Seasons in Beverly Hills." Nevertheless, the two seized the opportunity for some real talk during their acceptance speech.
"Being gay is not about being normal," Bailey said at the podium. "Gay is gay. Gay is not the same as everyone else. Gay is different.… We are all queer in our own special way. The responsibility of being gay, then, is not about sameness, it's about difference. And until we embrace the zaniest, freakiest, and gayest among us, there can be no fairness."
SLIDESHOW: Images of World of Wonder Productions