Freakshow: World of Wonder is Hollywood's Nuttiest Production Company
2.18.2013
By Natasha Vargas-Cooper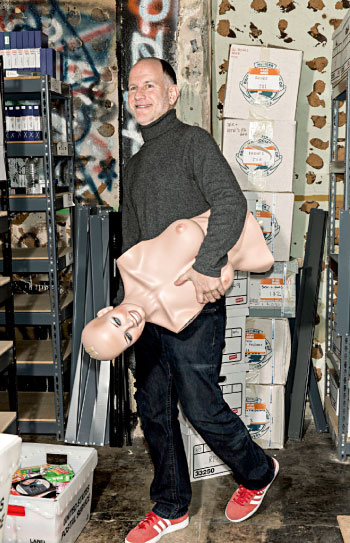 The duo's main addiction was late-night cable -- specifically the cavalcade of psychics, self-appointed sex therapists, Lithuanian karaoke stars, and drag queens who starred in their own first-come, first-served public access shows. Bailey and Barbato were inspired to do their own TV chat show called Flaunt It! TV. They filmed segments at the Limelight and had some "long-suffering" guests, like Quentin Crisp and Kate O'Toole. Flaunt It! TV ran four episodes before the two "collapsed in exhaustion followed by a period of deep depression," the two write in their book, The World According to Wonder.
They regrouped and came up with a new idea for a show: They would license all their favorite public access clips and bundle them into a single program. They sold the idea to Channel Four in the U.K. Manhattan Cable, as it was called, ran for four seasons.
Today those clips are called viral videos -- and you can find them replayed in all their ludicrous splendor on TV shows like Tosh.0 or The Soup.
"It sounds so corny, but we were fascinated with the democratization of media," Barbato says. "We were surrounded by talented friends who were considered outsiders -- there was no place for them."
While Bailey and Barbato found success producing "clipumentaries," the pair established themselves as filmmakers when they found their muse in fallen televangelist Bakker. "We were obsessed with her for some time," Barbato says. Along with her husband, Jim Bakker, Tammy Faye was forced to step down from her multimillion-dollar ministry and cable network when it was revealed that Jim had paid $287,000 in hush money to Jessica Hahn, an aspiring Playboy model who claimed Jim had forced himself upon her. After getting divorced and going broke, Tammy Faye struck out as a solo act and linked up with Bailey and Barbato, often participating in chat shows and pilots the two produced.
They were drawn to the force of her personality, her tiny raisin eyes embellished by those spider-leg lashes, and her tear-drenched outbursts into song. But the two were nervous that an evangelical like Bakker would recoil from their more flamboyant cohorts. And yet, she greeted every queen and queer with open arms.
"When we started on the film, a lot of people said to us, 'Oh, it will be great when you expose her,' " Barbato says, shaking his head derisively. "But she put it all out there. She was a reminder that you can be a little bit of a mess, a little bit of a wreck, but you can be fabulous doing it. She went out there every day with her problems all hanging out and she looked fabulous and, you know, put a smile on her face and others' faces. That's such a universal message people should take: That we all have problems, we are all messy, we are all so lucky to be alive."
The World According to Wonder book launch party–cum–WOW 21st birthday bash is being held on a pre-holiday December evening at a banquet hall in Universal Studios, on a street decorated with a faux-London veneer that was lined with paid carolers hours earlier. The line is starting to thicken with queens, dwarves, and scores of immaculately dressed gay men. Eventually, the room will swell with well-wishers and a few aesthete go-go dancers in elf hats. Wowlebrities (as they are called affectionately within the company) like La Toya Jackson, Wayne Brady, and Perez Hilton will mug for the red carpet cameras. James St. James, the author of Disco Bloodbath, the book on which Party Monster is based, dressed in a crimson plaid cape with a touch of rouge on his lips, will sweep through the crowd, promiscuously dispensing air kisses and hugs.
But for now it's just a few publicists and photographers milling inside the cavernous venue. In the corner of a completely empty dance floor, a slender black man in a perfectly tailored ash gray skinny suit and a coral-colored button-up is dancing by himself. He spins, arms open, then closed, keeping his solitary rhythm. It's RuPaul. He's DJing tonight's party and will host a mini drag set in a few hours. Right now he seems to just be warming up.
How is it that a drag act like RuPaul can, after spending over a decade in relative obscurity, shante back onto cable with a hit show? Just a few years ago, when RuPaul released a new dance album and solicited Entertainment Weekly for a review, the magazine refused but asked him for a comedic blurb to insert in a fashion article. He likened the experienced to "a black person being invited to a party, but only if they'll serve."