Freakshow: World of Wonder is Hollywood's Nuttiest Production Company
2.18.2013
By Natasha Vargas-Cooper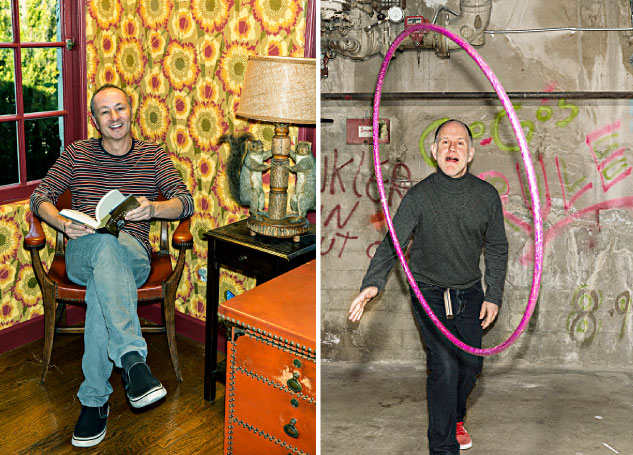 From right: Bailey in his home; Barbato in the World of Wonder office basement.
As laughable as Icke may initially be, by the second act of the documentary, the viewer is filled with a strange pity and protectiveness for him. "Who are we to say these people aren't allowed to be freaks and believe in a race of lizard people?" Bailey asks emphatically.
Many WOW productions could be classified as low-cost and high-camp. Once again, Bailey and Barbato don't bat a lash at this critique. "Here's the thing about camp: It's about exuberance -- that's all," Bailey says. "It's a refusal to hold back, to edit, or to water down for the sake of some sense of propriety, of acceptability. It's just, 'Fuck it.' I remember growing up and camp was just so marginal and so dismissed. I mean, I'm a person for whom The Rocky Horror Picture Show was a hugely important experience."
"And yet camp is pop is camp," Barbato muses. "And to dismiss pop or camp is moronic."
"It also stems from a cultural homophobia," Bailey adds. "But the disdain for camp is sort of not relevant anymore, because so much of what pop culture is is camp. Everywhere I look, it's camp. Duck Dynasty is camp."
Though it's entirely possible the two have been gnawing on the subjects of camp, trash, high-brow, low-brow, and no-brow since their grad school days at New York University's film school, they don't seem to tire of it. They're completely animated by today's discussion, with great peaks of volume and verve, as they deliver axioms on pop culture and aesthetics.
"Architecture is drag. Look at the Disney Concert Hall -- it's a clip-on!" announces Bailey.
Barbato adds, "The risk-averseness of television will be the death of television!"
While the two profess their devotion to "maximalism," there's a sensitivity that appears in much of their work; an entire swath of their catalogue is filled with quiet stories of the overlooked.
The Last Beekeeper follows three beekeepers whose work is in peril due to severe global and ecological changes. Ghetto Ballet focuses on Sibahle, a young ballet dancer from the slums outside Cape Town, as she competes for a once-in-a-lifetime shot at going professional with the South African Ballet Theatre (she doesn't get chosen). They also produced a documentary called Miss Navajo, which follows Crystal, a young woman who reluctantly participates in a Miss Navajo beauty pageant (she comes in second).
Even their more outsize subjects, like Tammy Faye Bakker, the embattled televangelist who appeared in one of the most notable documentaries produced and directed by the duo, 2000's The Eyes of Tammy Faye, are treated with a refreshing level of dignity. "Let me tell you," Barbato says with a touch of solemnity, "Tammy is with us and this company every day. She is a patron saint of World of Wonder. Making that film, whether it had done well or not, changed us."
In fact, Bailey and Barbato base the World of Wonder ethos on something Bakker said during filming: "We're all made from the same dirt."
Bailey and Barbato lived in Manhattan's then-drug-infested Alphabet City in the early 1980s. They were both attending NYU graduate film school and wanted to be famous, but were broke.
"The first time we met," Bailey recalls, "Randy was wearing a hand-painted shirt with Marcia Brady on it -- "
"Before Marcia Brady was cool!" Barbato interrupts. "Fenton was wearing Day-Glo yellow-green skin-tight leopard-y pants with high tops, with his hair up in a bun, Catherine Deneuve style. He was totally doing trans, androgynous, and punk rock. It was shocking!"
Barbato grew up in New Jersey. Bailey was raised in England. Each had encouraging parents. Each helped the other on his thesis film. Barbato's film, Robin, was a scripted drama based on a true story of a pre-op drag queen with whom he had grown up. He had his neighbors and parents play themselves, and his sister narrated the story. Bailey's film was a sci-fi fairy tale about a boy who flies to space and performs brain surgery called Hi, Mum. I've Gone to Space.
Eventually the two dropped out. Grad school was too expensive, and they found the nightlife scene in the East Village far more vibrant. They moved into an apartment a few blocks away from the Pyramid Club on Avenue A. Each had soul-crushing day jobs to clink away at happy hour: Barbato worked on Madison Avenue at an advertising agency specializing in real estate, while Bailey toiled on Wall Street, editing a newsletter about zero-coupon junk bonds.
At nightfall the two were either DJing or performing with their short-lived band, Fabulous Pop Tarts, in downtown dance clubs. They slunk around with nightlife fixtures like Sigue Sigue Sputnik and Michael Musto, and dutifully attended outrageous costume parties around the Village. Years later, in 2003, Bailey and Barbato would direct their first scripted drama based on one of the most lurid tales to come out of the motley downtown club scene: Party Monster, which chronicled the rise and fall of notorious club kid darling Michael Alig, who went to prison for the murder–dismemberment of a fellow scenester named Angel.
"We never bottomed out because we never got into drugs," Barbato recalls. "We also had to get up so early."