Freakshow: World of Wonder is Hollywood's Nuttiest Production Company
2.18.2013
By Natasha Vargas-Cooper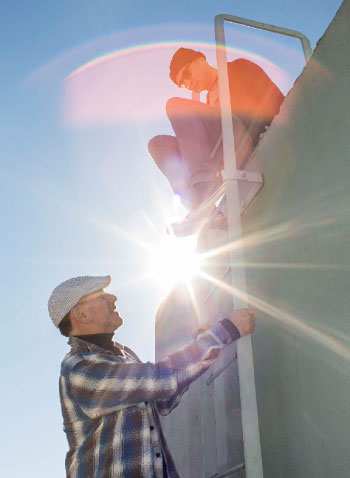 Photography by Jeff Minton
On the seedier side of Hollywood Boulevard, among the decaying storefronts selling bongs, Marilyn Monroe T-shirts, and foil-wrapped packets of sex enhancement pills, stands a lavish green-and-brass Art Deco building restored to show off its original 1930s glamour. Bright orange flags festooned along its rooftop snap in the Southern California wind, giving the emerald structure a pirate ship vibe. Across the metal gates, stenciled in tangerine paint, reads the word wow. This is the office of World of Wonder, one of the most radical -- and peculiar -- production companies in show business today.
For over two decades, the filmmaking duo behind WOW, Fenton Bailey and Randy Barbato, who mostly create reality-based programs, have actively charted a course away from mainstream tastes, instead scouring the margins of culture. If you had to map the terrain they navigate, it would be the latitude between Tammy Faye Bakker and extremists who believe the world is run by a race of lizard people. A small but representative sampling of their titles includes: Party Monster, Pornography: The Secret History of Civilisation, Gay Republicans, 101 Rent Boys, TransGeneration, Angelina: Saint or Sinner?, The Hidden Führer: Debating the Enigmas of Hitler's Sexuality, and 10 Kids 2 Dads.
"Networks love it when we pitch them," Barbato says, half-smiling, half-rolling his eyes. He's the cuddlier of the duo. Warm and effusive, he speaks with embellished vowels and a particular lilt that makes many sentences sound like open-ended questions. "They love us. Executives think we're a lot of fun. They love our quirky ideas, none of which they believe are marketable."
World of Wonder's more recent "marketable" offerings are OWN's Being Chaz, Sundance Channel's Girls Who Like Boys Who Like Boys, and Bravo's Million Dollar Listing -- they're often criticized for being too trashy, too zany, too marginal, too lowbrow, and too, well, gay.
SLIDESHOW: Images of World of Wonder Productions
"It can take three to five years of pitching a show or documentary before someone finally approves," Barbato laments. "That's how long it takes for the culture to catch up." It took 10 years to get their breakout hit, RuPaul's Drag Race, on cable; host network Logo turned the program down four times before picking up the series in 2009. Now Drag Race is the channel's most-watched series and has become -- perhaps grudgingly -- Logo's flagship show.
We are sitting in WOW's main conference room. The industrial space with exposed beams and cement floors is made a little cozier by splashes of whimsical décor: ceramic owl statues, golden piglet bookends, and needlepoint cushions in maroon and fuchsia. We sit beneath an oversized, 1950s-style paint-by-numbers canvas with the word yes transposed over the Arc de Triomphe.
Barbato points to the painting: "We have this in here to remind us that every pitch we've made started with no. No, no, no."
"For us," Bailey adds, "no is the beginning of yes."
Part of the struggle to get their subjects on air is Bailey and Barbato's specialty: freaks—freaks, outsiders, 16th-minute celebrities, conspiracy theorists, penis puppeteers, dictators, street hustlers, porn stars, hackers, homicidal club kids, gender deviants, furries, plushies, and Tori Spelling.
"We are into freaks who are engaged in the world, who have a joie de vivre. We are turned on by people who are tuned into a different frequency," Barbato says with unmistakable warmth in his voice. "We fall in love with all our subjects."
"Look, there are two ways to showcase freaks," Bailey says in a matter-of-fact tone. He has a little bit more of a taciturn style; his lightly hooded eyes usually give a deadpan stare. It's like being on the opposite end of an aristocratic gaze: enticing and a little intimidating (his British accent adds to the effect). "You can humiliate and make fun of the freak—put them in situations that exploit them—or you can celebrate the freak. We celebrate the freak."
Something fundamentally democratic exists when working with freaks. Take, for instance, David Icke and his followers, who believe the world is ruled by a race of 12-foot-tall lizard people. In World of Wonder's BBC series Secret Rulers of the World, a five-part documentary, journalist Jon Ronson spends weeks alongside Icke on his book tour. Though Icke's views are no doubt wacky, he's harmless. He preaches pacifism, and his followers tend to be older, New Age types whose love of sci-fi has somehow overlapped with their own political views. When Icke arrives in Canada, however, a number of liberal groups organize to shut down his tour. They make anonymous calls to bookstores and radio stations, branding Icke a racist (they charge that "lizard person" is a code word for "Jew" -- Icke refutes this). They show up to his lectures and drown him out. And at a book signing with no more than 30 people in attendance, they attempt to throw a pie in his face.