Ann Jillian Remembers 'Gypsy'
12.22.2012
By Jeremy Kinser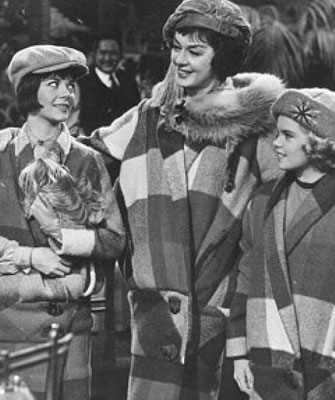 Having seen the production and been called in to audition so many times you must have been aware that this was a really important project.
Definitely. I knew the buzz was incredible about it when I saw the show on stage. I knew the excitement about it was big and when you go in to audition 13 times you know it's big. It evokes a need to excel.
Were you aware of any controversy at the time of Rosalind Russell being cast instead of Ethel Merman?
Only after the film came out. I didn't know about it before. To me it was just natural. People are chosen to play roles. There wasn't a question in my mind about why they were choosing Rosalind over Ethel. Having seen Ethel and working with Rosalind, I'd say they both brought to the role their own energy, their own talent, and their own perception of the woman. I think they were both valid. Ethel brought a very brassy, "get-out-of-my-way, I'm barreling through" quality. Rosalind did the same thing but also brought a regal quality and more layers to the character, but I think that's because of the medium. When you're watching something on stage you don't see every flutter of the eye or every tremor of the lips. It's bigger than life. In film every thing is magnified. Rosalind was very skilled at that. I think she did a beautiful job and gave the character more complexity.
How did you find working with Rosalind?
She was the consummate professional. I was 12 so we didn't have reasons to have long discussions with one another but she was very cordial. She helped a lot whenever she could. Certainly Rosalind Russell, Karl Malden, and Natalie Wood were tremendous people to learn from when you're a child in this industry. She was a very nice lady and I learned professionalism from her. I also learned how to focus from her and she had a great sense of humor. I got chills watching her film "Rose's Turn."
Judy Garland was reportedly Mervyn LeRoy's other choice to play Mama. How different do you think the film would have been with her?
I was not aware of that. Good heavens! I think her movie persona would have eclipsed both Ethel Merman and Rosalind Russell. She would have brought a whole different personality. There would have been a natural kind of insecurity she would have brought, a very vulnerable element to the character. It's interesting how different actors can play the same role and bring different pieces of themselves to it. That would have been a very interesting choice. I am absolutely blown away by that piece of information. I always wanted to play that role.
Natalie Wood also had a notorious show business mother. Did you ever discuss this with her or did she offer you advice about the industry?
She offered me support and was sisterly in real life. My mother and Natalie's mother got along famously. I always saw a very amiable nice woman. I didn't find out until years later when I read biographies of Natalie that she had any troubles at all. It's something that I don't recall because it wasn't in front of me. When I think of Natalie I think of this beautiful fragile lovely woman. I was awestruck. I was 12 and about to turn into a young woman. And here she was just absolutely gorgeous. Inside you could tell there was a great deal of vulnerability. I think she looked upon me as this kid going through this business and she related to that. I related to her being compassionate. I felt a kinship. At the end of the filming she came to the schoolhouse and brought me a gift. It was a beautiful charm bracelet with a heart that said "To Ann, Love Natalie" on one side and the other side said "Dainty June."