50 Essential Gay Films
12.9.2012
By Out.com Editors
TWO MOON JUNCTION (1988, dir. Zalman King)
John Waters, Director:
Can a straight movie ever be gay without knowing it? You bet it can! This god-awful but wonderfully bad Tennessee Williams imitation manages to be sexy to gay men because of the often shirtless lead actor, Richard Tyson, playing a stereotypical southern hillbilly carny who could only have come from a Los Angeles casting director's dream. Those puffy lips, that ratty long hair, that "Hollywood loaf" lurking in his skintight jeans. Is Two Moon Junction the fictitious town in which the film is set, or his ass?
He's enough to drive Alabama debutante Sherilyn Fenn completely out of her soft-core, damp, horny, repressed, betrothed mind. And if that's not enough for lesbians, there's Kristy McNichol in a truck! "Uncontrollable Passions…Unbearable Heat," the ads screamed. Unbelievably ludicrous, too, but God, is it fun! "Everything you are…" Fenn pants to her forbidden lover, "… is between my legs," he answers without a hint of irony. Classic? God, yes.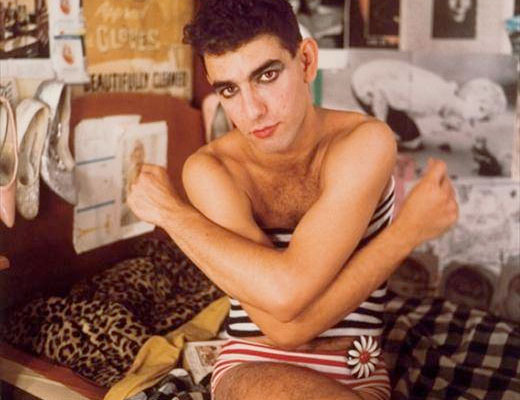 THE LAZIEST GIRL IN TOWN (1981, dir. Mark Morrisroe)
Jack Pierson, Artist:
A Super 8 masterwork by the late photographer Mark Morrisroe, The Laziest Girl in Town is only underappreciated by those who have not seen it. Admittedly, its screenings have been limited to a few gallery exhibitions in New York City, Spain, Switzerland, and Berlin. It stars both Morrisroe and Stephen Tashjian, the legendary international artist also known as Tabboo!, and includes a cameo and camera work by myself and the photographer David Armstrong. Laziest Girl was written and directed by Morrisroe in the summer of 1981 in Provincetown after he gleaned as much as he could from the book Shock Value by John Waters. There are moments of great beauty as well as auto-anal stimulation using an ear of corn. Summertime love!
This spring, Artists Space in New York City will host an exhibition of Morrisroe's photography, his first retrospective ever in America. Hopefully, they will schedule screenings of this overlooked treasure as well as Morrisroe's other two films.
Five British Classics: VICTIM (1961, dir. Basil Dearden)
British idol Dirk Bogarde had already made his name in a string of popular movies about the exploits of a young doctor when he played the role of a closeted barrister who takes on a ring of blackmailers threatening to destroy his career.
Five British Classics: THE NAKED CIVIL SERVANT (1975, dir. Jack Gold)
This made-for-TV adaptation of Quentin Crisp's autobiography won John Hurt a BAFTA for his performance as Crisp, the flamboyant English queer who withstood the slings and arrows of '30s and '40s Britain.
Five British Classics: MY BEAUTIFUL LAUNDRETTE (1985, dir. Stephen Frears)
An interracial love story set against the simmering tensions of early '80s Britain, Laundrette marked Daniel Day-Lewis's first major role, as a gay punk with fascist sympathies. A climactic topless scene among the soapsuds is priceless.
Five British Classics: MAURICE (1987, dir. James Ivory)
Hugh Grant is floppy and adorable in the arms of James Wilby's Maurice in this adaptation of E.M. Forster's 1914 novel about undergrads falling in love. Rupert Graves is the gardener from the wrong side of the class divide whom Wilby lusts after.
Five British Classics: BEAUTIFUL THING (1996, dir. Hettie Macdonald)
Jamie and Ste, teenagers in a housing project, explore their burgeoning homosexuality amid the blight of East London. The movie has a brilliant cast, but the real star is Mama Cass, as channeled by sassy Leah (Tameka Empson).