The Invisible Man
6.4.2013
By Duncan Fallowell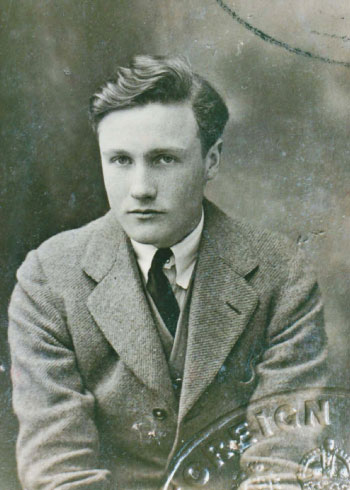 One could tell from the intense clarity of the eyes that he had all his wits and could remember everything. But it was pathetic. His whole demeanor was of a man in mortal fear of exposure. It was impossible to persist and I apologized, wished him well, and came away thoroughly embarrassed. But if you are drawn by something or someone, you have to give it a try. Rejection is hurtful, but not even trying is worse. I'd foreseen a charming harborside dinner while Graham reminisced flavorsomely to a pair of fans. Instead of that it had been a disaster and I was acutely ashamed of myself.
January 1983. Nick Jones-Evans telephoned to say that he'd heard from an acquaintance on the coast that Graham had died the previous autumn, "taking his secrets with him." To Nick's knowledge there had been no sale and he didn't know what had happened to Graham's papers.
February 25, 1983. I was having dinner with Harold Acton at La Pietra, his house above Florence. Waugh had dedicated his first novel, Decline and Fall, to Harold and I told him of Graham's death. "How extraordinary that you can tell me that," he remarked. "Because not a single one of his contemporaries would have known it. I don't think anyone knew him well except Evelyn. I can say he was very good-looking in a delicate, Pre-Raphaelite way and had the same sort of features as Evelyn liked in girls. The pixie look. He was not a hearty, but he dressed like a hearty, in the country style, plus-fours and tweeds." Harold gave me a twinkly eye as he used that word "tweeds," always his classic put-down.
"Oh yes, he and Evelyn were always together," mused Harold with an odd smile. "An infatuation. And it went on for quite a few years. We hardly saw anything of Evelyn at that time. Oh, definitely an infatuation." Harold, of course, was in Brideshead Revisited too. He and Brian Howard were blended in Anthony Blanche, the aesthete of Christ Church. So momentarily -- ha! -- I was listening to Anthony Blanche's sly complaint, 60 years after the event, that Sebastian Flyte had stolen the narrator Charles Ryder from him.
Selina Hastings [Waugh's biographer] came up with something solid: two surviving letters from Alastair to Evelyn. She thought there were no others, but I managed to unearth a third from the Waugh archive. All three are unpublished and undated but from the period 1922–'25. The most evocative is the Burgundy letter sent from London in 1923 or '24, addressed to Waugh at Hertford College, Oxford. Enclosed with it is a photograph of Alastair standing naked on a rock with what appears to be a waterfall in the background. It was one of the few things from this period that Waugh, despite the later virulence of his religion, couldn't bear to destroy. The letter reads:
Saturday
My dear Evelyn,
I'm sending this down by David or the Bastard John, whom I'm seeing this evening. I am sad that you wouldn't come up for this party. I am afraid it will be bloody. One can always drink, but it is rather a cheap path to heaven. I've found the ideal way to drink Burgundy. You must take a peach and peal [sic] it, and put it in a finger bowl, and pour the Burgundy over it. The flavor is exquisite. And the peach seems to exaggerate that delightful happy Seraglio contentedness that old wine evokes. An old French lady taught it to me, who has a wonderful cellar at Lavalles. I've been in bed with pains in my ears for the last two days. May I go and call on your parents one day, or would they hate it? I do not know whether I ought to come to Oxford or not next week. It depends on money and other little complications. If I come, will you come and drink with me somewhere on Saturday? If it is a nice day we might carry some bottles into a wood or some bucolic place, and drink like Horace. I'm afraid this is a poor wandering letter. But I cannot write letters. It was only meant to express my sorrow at your absence from this party. I wish you felt merrier, and were not so serious.
With love from Alastair, and his poor dead heart.
The tone of whimsy and sad sweetness is so exactly that of Sebastian Flyte that it is clearer than ever how much of Alastair's stripling manner was the basis for that character. Not to mention the outing to drink "some bottles" in the countryside -- such an outing on a sunny summer's day is the first magical set piece in Brideshead Revisited. Another of the letters to Waugh, sent from the Bury, Offchurch, Leamington, probably in 1925, contains these telling lines:
…all the beautiful things that I have seen, heard, or thought of grow like bright flowers and musky herbs in a garden where I can enjoy their presence, and where I can sit in peace and banish the unpleasant things of life. A kind of fortified retreat that no one can enter except myself.
Both Narcissus and the recluse are glimpsed in these letters, but, of course, narcissism and reclusiveness are profoundly linked; you can gaze into your pool only so long as you are undisturbed by others.
Fallowell's How to Disappear: A Memoir for Misfits is out June 21, 2013