The Invisible Man
6.4.2013
By Duncan Fallowell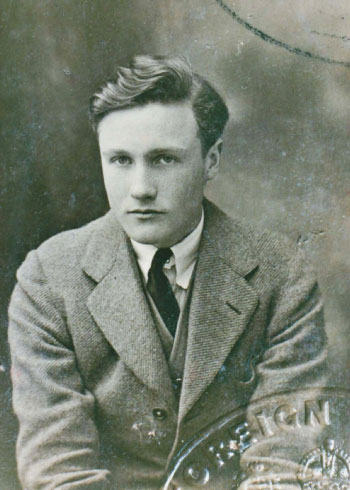 A few months later I was having dinner with a friend of mine, Nick Jones-Evans, at his house in Presteigne on the Welsh Marches. His family used to own property in New Quay, so I mentioned my meeting with the funny old gent. "Ah," said Nick, "I think I know who that was. I met him myself once, in my teens. That was also in the Dolau. I was with my father and when I started talking to him, my father called me away. When we got outside he said, 'You mustn't talk to that man again. He's well-bred—but unclean.' The thing I always remember is that his nails were so highly polished I thought he must've been wearing nail varnish."
"But who is he?"
"He's called Graham somebody and arrived in the district before the war with a retinue of servants. But he was always considered a dubious character. I wish I'd made more of a stab at getting to know him."
"He told me that Evelyn Waugh had a small cock."
"Goodness me—did he say more about it than that?"
"No, he didn't. But the pub landlord called him Mr. Graham."
"That's it, Alastair Graham. I did hear once that he'd had a fling with a New Quay postman. Now look, you've got to finish that fish pie. I did it specially for you."
Two years later, I was talking one afternoon to Charles Sturridge at a friend's flat in Linden Gardens. He was directing the television series of Brideshead Revisited and said "The great mystery is, where is the real Sebastian Flyte? The model for the character was someone called Alastair Graham. Waugh met him at Oxford and they were lovers in the '20s. Then after leading an interesting life, Graham suddenly vanished from the scene in the '30s. We don't know where and we don't know why."
You may recall that Sebastian Flyte is the youthful drunkard with whom the narrator of Brideshead Revisited falls in love when they are undergraduates at Oxford. At the time nothing registered. So great was the disparity between the two images -- young radiant Lord Sebastian Flyte and the jittery old codger in the pub—that it wasn't until the following week that I recalled my seaside encounter years before and realized that although I didn't know why, I certainly knew where.
Sebastian Flyte was living in New Quay.
Naturally I wished to return there, establish contact and find out what had made him run away at such an early age from everything he knew. Meanwhile Charles Sturridge arranged for his television company to do a search of the printed sources and send me the results. They amounted to quite a stack of pages, much of it from Evelyn Waugh's diaries, and with the help of this preliminary material I was able to pencil an outline profile.
Graham was born in 1904 and went to Brasenose College, Oxford in 1922, that memorable year of Eliot's "The Waste Land," Joyce's Ulysses, Wittgenstein's Tractatus, the death of Proust, and the opening of Le Boeuf sur le Toit, the first modern nightclub. Graham drank too much and failed his exams. He and Waugh were constantly together at Barford House in Warwickshire, to which Graham's mother, Jessie, had moved. After her son's flop at the university, Mrs. Graham enrolled the boy in an architectural school in London, but he never attended any of its classes. Next he became an apprentice at the Shakespeare Head Press at Stratford, where he published Waugh's first work, an essay on the Pre-Raphaelites, but that didn't last either. In 1928 he joined the Diplomatic Service—and left it in 1933. End of career. No more jobs. All this sounds perfunctory and disjointed, and one gets the impression that these activities occurred spasmodically, against a background of drifting and boozing, which were the really coherent activities. Obviously Graham had dropped out before he was 30 years old. But the question is—had he ever dropped in? Waugh, in his autobiography, A Little Learning, gives Graham the name "Hamish Lennox," and calls him "the friend of my heart," writing, "We were inseparable or, if separated, in almost daily communication… Hamish's home was uncongenial to him. His father, the younger son of a Border family, was dead and his mother was high-tempered, possessive, jolly and erratic."
And that was all on Alastair Graham. After 1933 his trail disappeared completely. Even those in the know didn't know what had happened to him. Does it matter? Well, it's tantalizing. Recluses and absconders always are. They bring out the mischief in one as well as the curiosity. You suddenly ran away, old fruit, and have been hiding for 50 years. We want to know why.