Gabriel Gastelum Has Never Been Covered In Body Paint
5.1.2013
By Stacy Lambe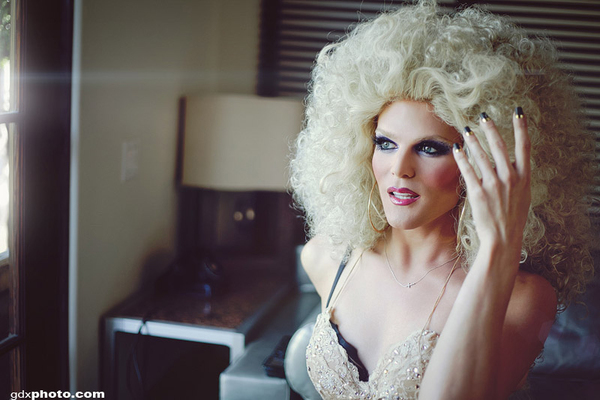 Willam Belli is known for her quick wit. What was the craziest thing she said or did during the shoot?
He said so much that made me laugh, I just can't remember. Just watch one of his Beatdown videos online - that's exactly how he is. He doesn't care about your race, religion, beliefs, etc. It's his shtick and he will say it if he wants. He loves to entertain and will always do that, entertain. He also made a lot of farting noises.
Are you a fan of RuPaul's Drag Race? Do you have a favorite from this season?
I've actually only watched this last season, but I became obsessed! It's so funny! Jinkx Monsoon all the way. I think he's brilliant. I remember seeing him back in my Seattle days and it's fantastic to see him come such a long way.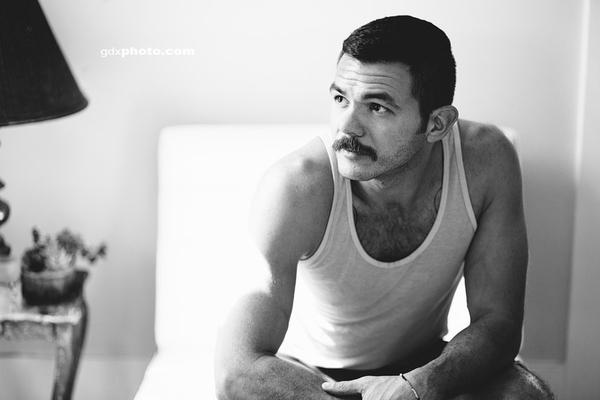 Unfortunately, Shawn doesn't get to talk much as a member of the Pit Crew on RuPaul's Drag Race. Were you surprised to learn anything about him when you spent the day photographing him?
Shawn is one of the nicest guys I've worked with in Los Angeles. He loves anime and videogames. He would honestly rather stay in and watch anime all day. Before we met, I had no idea he was a huge event promoter here in Los Angeles. He did talk a lot about the show, and he has his favorites, for sure, but in LA you don't dare repeat much stuff. Willam and Jinkx were a few mentioned.
What's something about yourself that would surprise most people?
I'm really really animated and silly. I'm not sure how surprising that is, though. Should I say something cooler, like I can speak four languages? Or that I have perfected the cartwheel?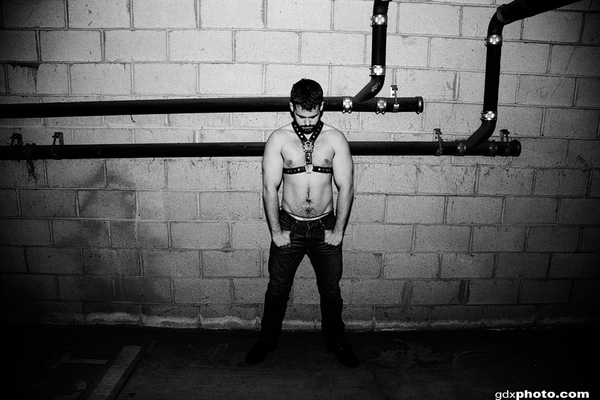 The scruffy model looks like he's ready for a night at the Eagle. Where would we find you on a Friday night?
It really all depends on the week. Some Friday nights I am ready for wine and laziness. I love trying new restaurants or food trucks too, so Friday's are sometimes filled with fatness. Other times I'm ready to high kick and party all over town. As long as I am surrounded by my friends and good people! But, I do have to say I prefer a laid back dive bar over a big club any day. I live in front of an Irish Pub. It's my favorite.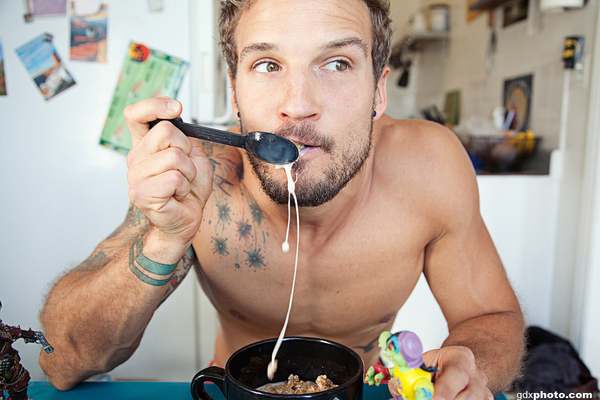 What inspired the concept of this popular photo shoot featuring model Parker Hurley?
The concept was actually Parker's idea. He wanted to do a fun shoot that would capture his personality, so what you see on there is exactly how he is. In his undies, surrounded by his artwork, watching cartoons or playing video games. It's his favorite way to spend his Saturday morning. So we aimed to capture that. Which was perfect, because that is my strongest area: Lifestyle photography.
What's a typical Saturday morning for you?
GG: Waking up late. Watching some Golden Girls. And it either goes one way or another. I go out and enjoy a beautiful Los Angeles day, or I am working. Weekends for a photographer are always filled with a little work. I am lazy as often as possible. Naps. Naps are good. Cupcake breaks as good, as well.
All photos by Gabriel Gastelum. More work and complete collections can be found here.