Gabriel Gastelum Has Never Been Covered In Body Paint
5.1.2013
By Stacy Lambe
When Gabriel Gastelum abandoned his plans for law school, he decided to travel the world, documenting every step along the way. It was a picture of a little girl in Vietnam that triggered a professional life behind the camera. Soon after he posted the image, magazines started calling and asking to feature the photo.
Now, nearly four years later, he's made a career out of photographing friends, weddings and, more recently lately, internet-famous personalities. Although he's been featured in various publications, online 'zines and even NBC, his work is probably most often seen on Tumblr (or, as seen here, various gay-centric websites).
He's worked with everyone from the heat-inducing underwear models, Parker Hurley and Benjamin Godfre, to RuPaul's most famous on-air assistant, Shawn Morales. And surely enough, these guys made his work go viral.
Out talked to the photographer about some of his most popular work, his favorite type of shot and where he can be found on a Friday night.
During one of your most popular photo shoots, you completely covered Andrew Christian models Colby Melvin and Cory Frederick in paint. How much paint did you use on set?
Not as much as you would think. It's just couple of bottles that were thinned out using water. It was water based paint, so it was easy to work with. The idea actually came from an engagement shoot I did earlier that year. I figured it would be a neat idea to do it with half naked men. I was right.
This shoot went viral, appearing everywhere from Huffington Post to Tumblr. What is like seeing your photos re-blogged and circulated around like that online?
It was pretty crazy to see how popular it was online. It actually taught me the power of Tumblr, but it also taught me how easy it is for people to steal pictures. Because of Tumblr, people would re-edit the picture their way, clubs would use it for fliers without my permission... But still, it was really cool to see how much people loved it.
Have you ever tried painting yourself (as in a picture and not your own body)?
GG: I have not! It would probably not come out as pretty.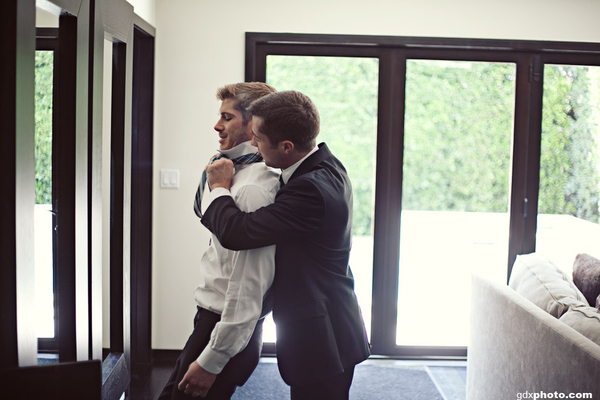 You've photographed underwear models Colby Melvin and Brandon Brown naked or nearly naked so many times. Did you ever think you'd ever actually see them in clothes?
I knew I would one day! They were actually happy to get a session where they wouldn't have to be nearly naked!
What are more fun to shoot: weddings or engagements?
I would have to say is engagements. Wedding days can be incredibly stressful, and with engagements you have more time to capture the couple's personalities and love. I just photographed a beach wedding in Costa Rica, though, so it definitely varies. I would take that beach wedding over an engagement session any day.
What are three things your partner must possess in order to marry him?
Humor. A sense of adventure. Patience. I am going to throw a love for cupcakes in for good measure.
Benjamin Godfre, model and budding porn star, is known for getting naked. Was the plan to have him drop his pants for this shoot?
Yup! He knew from the start he would be naked. He is completely comfortable being nude. Find me a shoot with him where he isn't half clothed and I will give you a bag of gummy worms. He actually made a behind the scenes video. With some searching of names you can probably find it online!
How did Benjamin react when he found out you were covering him in powder?
"KICK ASS" were his exact words. Benjamin is an amazing model to work with. He is usually down for anything new and exciting…