Siren Call
1.21.2013
By Aaron Hicklin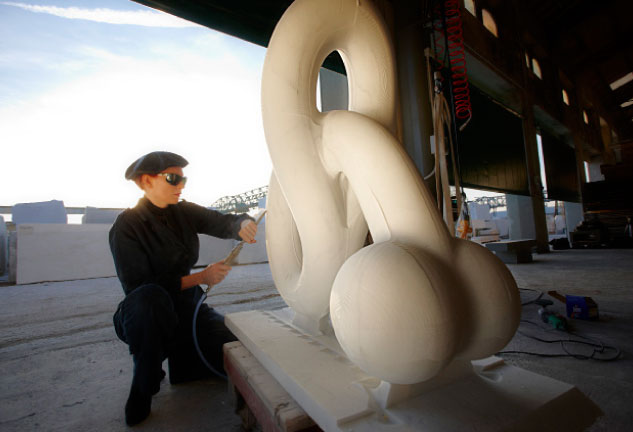 Vernon sculpting The Origin
An online hookup is also unlikely to be the best place in which to explore one of Vernon's other biblical injunctions: delayed ejaculation. It is, she says, the hardest lesson to learn. "For the past 2,000 years, men have been told that they are actually born as sexual superiors," she says. "Women, don't forget, were punished for having an orgasm -- get out your rosary beads. I'm able to do what I'm doing today because of what happened in the '60s and '70s; because of people like Kinsey, and because of the sexual rights revolution when women began to break free from the ropes of a phallocentric society and gay men got inspired."
Surprisingly, the most popular item from Vernon's collection isn't a bullwhip or paddle (made of sustainable wood) or the nipple clamps or various restraints -- it's a simple and benign-looking massage ring with a row of pearl-sized balls running along the top. But like everything else in her boudoir, its appearance is deceptive. "I'm going to give you a little bit of a massage so you can understand what actually can happen," she says, running the ring gently over my shoulders. "The goal with them is to do something that the hands can't do." The balls of the ring send tingles down my spine, releasing tensions I didn't realize I had.
Vernon steps back, delighted with the effect she has produced. "You couldn't do that with your hands," she whispers in my ear. "Imagine that on your sex, darling."
The Boudoir Bible (Rizzoli, $35) is out January 22.