Siren Call
1.21.2013
By Aaron Hicklin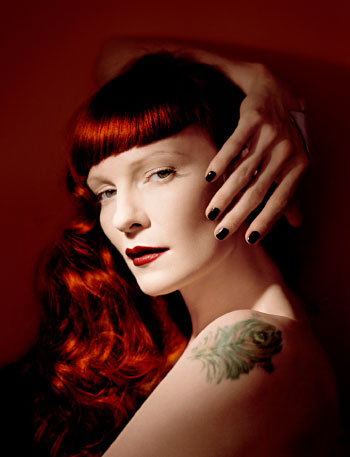 Photography by Ali Mahdavi
Betony Vernon, who has red hair, red nails, and red lips, leans across the pony-hair table with its porcelain cups of rooibos tea and holds my gaze. "You have a seam on your testicles," she says in her deep, elegant accent that hovers somewhere between her native Virginia and her adopted cities of Paris and Milan. "You are sewn up by some cosmic force of nature -- otherwise you'd have a pussy, too."
It is late on a Saturday afternoon in the Marais, and the pale winter light is fading fast. Vernon, who is tall and slim and sports a 1970s Yves Saint Laurent men's suit ("Get your hand on that -- impeccable!"), points to a white sculpture on a console. It resembles a giant shirataki noodle -- if it was made of marble and had a scrotum for a base—that is looped suggestively through itself.
"This is called The Origin," she says. "It's male and female at the same time. It's sort of an homage, not only to penetration -- to man and to woman -- but also to the middle sex." A much bigger version, three meters tall, is currently on display at the Trienalle in Milan as part of an exhibition on sex and design, a subject on which Vernon is well versed. Her erotic, multipurpose jewelry has attracted a dedicated following since its debut in 1992 and has inspired her second career as an advocate for sexual creativity.
Vernon's Wikipedia page credits her for inventing the term "sado-chic," but her crusade for better sex goes far beyond her elegant bedroom toys: She wants to illuminate the threads that connect men and women, to coax us into a deeper appreciation of our bodies. This month, Rizzoli publishes The Boudoir Bible, a closing-the-circle moment for Vernon, who has a vivid memory of purloining a copy of The Joy of Sex from her local library at age 12 and eagerly, guiltily, devouring it. She'd like nothing better than for a new generation to find similar enlightenment in her book, subtitled "The Uninhibited Sex Guide for Today," in which she encourages experimentation and play.