A Chat With Jinkx Monsoon
5.7.2013
By Julien Sauvalle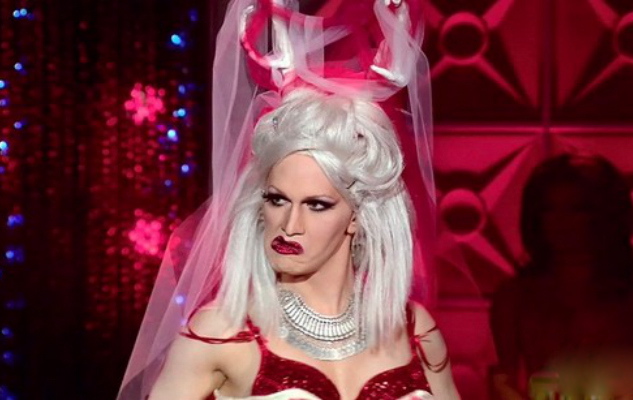 Photo: LogoTV.com
Who do you keep in touch with now that the show's ended?
Even though there were fights and crazy moments, I have a wonderful relationship with all the contestants. I'm the closest with Ivy and Alaska, we talk on the phone all the time. Roxxy and I grew very close too. Sometimes fighting will bring people closer than they ever could have been if they had been nice to each other the whole time.
Did your crush on fellow contestant Ivy Winters materialize into anything more serious?
I knew that I had had that conversation with Alaska about liking Ivy, and I had no idea that it was going to air. I was actually terrified because it was such a situational thing. It's not something I held on to after we finished filming. I texted Ivy before the episode aired and I said 'You were so great with me, I think I may even have had a crush on you at one point' and she just replied 'Oh really? Oh, you know, whatever!' Ivy has a very charming boyfriend who takes wonderful care of her. He and I get along great, so there's no hard feelings about any of that.
Since we're on the subject, do you have a boyfriend?
I refer to myself as 'chronically single'! I'm focusing on my drag career right now, and I want to give this opportunity my full attention. It wouldn't be fair to anyone who would want to date me right now. They would have to put up with never seeing me, and when they do, always seeing me dressed like a 45-year-old woman. I'm just going to wait until it happens naturally.
And now for the Miss America question: What do you hope to stand for as America's Next Drag Superstar?
I spent a lot of time thinking about what I want this year to look like. I want to hold that crown for everyone like me who had to overcome life struggles, and work their ass off to achieve their dream. Whatever your dream is, you always have to try to go for it, at least once. I also would love to work towards social change and equal rights, particularly gay marriage and discrimination at the work place. The gay rights movement hasn't ended: Even though we live a much more privileged life than our predecessors, the fight is not over. If you pay your taxes, you deserve the same rights as every other person.
What are you going to do with your prize money?
I'm going to open a college fund for my youngest brother, and I want to give enough money to my student loan company so they will just leave me alone for at least two years! I also want to put a little bit of it into trying to make an album.
Exciting! What would that sound like?
I could never make an album of dance music like Sharon Needles did. I would never touch that! I would do something with torch songs, Broadways standards, and more musical-y tracks.
What else is in the cards for you?
I'm going to star in the concert version of Hairspray at the 5th Avenue Theatre in Seattle this summer. I'm playing Velma Von Tussle, the retired pagean queen! After that, I'm coming back to New York in mid-July to do an original musical comedy called The Vaudevillians, which I created with my music partner from Seattle. I play a coke-addicted whore! And there's also a lot of touring involved with the Absolut Drag Race Tour. We're going to Europe, starting with Glasgow, and roaming around the continent.
Catch up on RuPaul's Drag Race at logotv.com, and keep in touch with Jinkx on her official website.