Meet the Gay Power Duo Behind Fab.com
4.15.2013
By Aaron Hicklin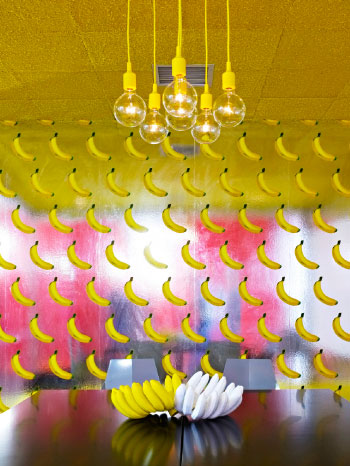 The scratch 'n' sniff banana wallpaper in the Fab.com offices
In many ways, Goldberg's life is a mirror of a broader shift in American life. A highly motivated self-starter, he wrote to the Clinton campaign in 1991, offering his services. He was studying at Emory University in Atlanta at the time, long before the Web and social media made it easier for people to be involved and engaged with national politics—or, for that matter, for gay people to find and identify one another. When a call came back from the campaign office asking Goldberg to drive the governor's wife, a then largely unknown Hillary Clinton, during a campaign visit to Atlanta, he jumped at the chance. Shortly after, he dropped out of school to work on the campaign full-time, helping to organize Clinton's campaign tours. It was his first experience working for a successful start-up. In Little Rock on election night, it was his CD collection that was commandeered to warmup the crowd.
Goldberg would return to college, before moving to D.C. to work as an aide to Erskine Bowles, the White House Chief of Staff. In D.C., one of his roommates was Chad Griffin, now president of the Human Rights Campaign, and a key figure behind the challenge to California's Proposition 8. Neither of them was out at the time. "We both told people we had girlfriends," recalls Goldberg, whose gruff and aloof exterior could sometimes rub people the wrong way.
"It was hard to get on his good side, and not everyone liked him, but he was the gatekeeper to the White House Chief of Staff," recalls Richard Socarides, a policy adviser to Clinton, and one of the highest-ranking out gay people in federal government at the time. "If you wanted to change U.S. foreign policy towards Russia, you had to be nice to this kid -- that's how high the stakes were." (Goldberg does not dispute that his social skills were somewhat wanting, and credits Bowles for telling him, "Jason, people are going to do things for you because they like and respect you, not because they have to -- you've got to work on that.")
Late one night, as Socarides was finishing a memo for the chief of staff, he received an email from Goldberg. "It began as this series of obtuse and obscure questions, like, 'What's it like to be gay here?' " Socarides recalls. "I was trying to finish this memo, and here's the kid I have to be nice to asking me what it's like to be gay." Socarides kept his answers short, but Goldberg persisted. "About the 10th or 12th exchange, I wrote back, 'Why are you asking all these questions?' " he recalls. "And he said, 'Well, I'm gay, and I'm thinking of coming out to my boss.' "
For Goldberg, coming out was a transformational experience, but it was also one that reflected the changing culture at the White House. For Socarides, it was a teachable moment for the whole administration, not least because Goldberg didn't read as gay to anyone at the time. "It teaches us that what appears is not always the case, and that there are gay people everywhere," Socarides says.
When Goldberg left for Stanford Business School in 1998, drawn by the promise of Silicon Valley, Bowles threw a lavish farewell party for him, but the two kept in touch. A year later, Bowles reached out to Goldberg, inviting him to help turn around a New York start-up he'd invested in. And it was in New York, at a weekly gay dance night at the late, lamented Roxy, that Goldberg met Shellhammer.
"It was my first night out in New York," says Goldberg, not long out of the closet and experiencing his first gay club. "He was wearing a visor, dancing in the middle of the room," recalls Shellhammer. "We still talked to him." The two remained in touch as their lives followed separate courses -- Goldberg moving back to Stanford, and Shellhammer relocating to San Francisco. It was a decade later, back in New York, after working at a string of start-ups, that Goldberg suggested that Shellhammer quit his job at Blue Dot and help him launch Fabulis. That was just over three years ago.
One evening in February, at New York City's Soho House, Shellhammer tells an instructive story about taking a team of six Fab employees to dinner, whereupon he invited each to tell a secret about themselves.
One had been a top swimmer in Korea at the age of 10 and was juiced by his coach; another had been jailed for some petty crime; a third had failed second grade; and so on.
Shellhammer's secret was about a friendship with a boy in fourth grade, Dustin, who was so severely paralyzed after being hit by a car that he was limited to a specially constructed wheelchair and a ventilator (they appeared in a documentary, Beginning With Bong, about special needs kids and their friends). "He really made an impact on me," Shellhammer recalls. "To be stared at all the time, always being asked questions -- he was weird, he was different. It really taught me not to judge people on face value, and it was a turning point in my life."